I dont know where the incident happened but Kola Boof just posted it on facebook. Kola is Madam know all, Onyokometer, binoculars, cnn and bbc combined into one…lol, She wrote
A Man "Burnt Alive" in Nigeria…because he was Gay.
**Nigeria passed it's Anti-Gay marriage law two days ago. Since then, many Gays in Nigeria have been arrested by Police and the army. In Uganda mobs of Christians have been hunting down & murdering Gays after their photos are published in local newspapers. In South Africa, more than 3 lesbians have been Gang-raped and set on fire even though S. Africa legalized Gay unions.
Peep the photo when you continue but viewers discretion advised!!!!! Between who takes kids to such scenes? Seeing such at this age, soon they wont have a heart!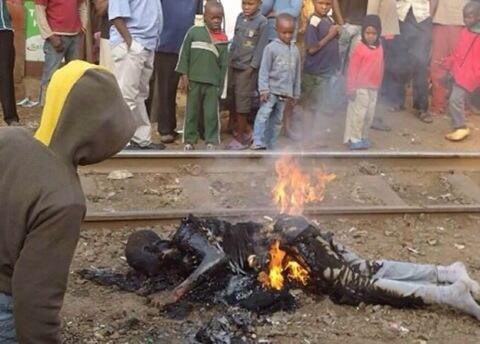 Am sure such scenes will become common in Nigeria in the next few days!!
What do you think?