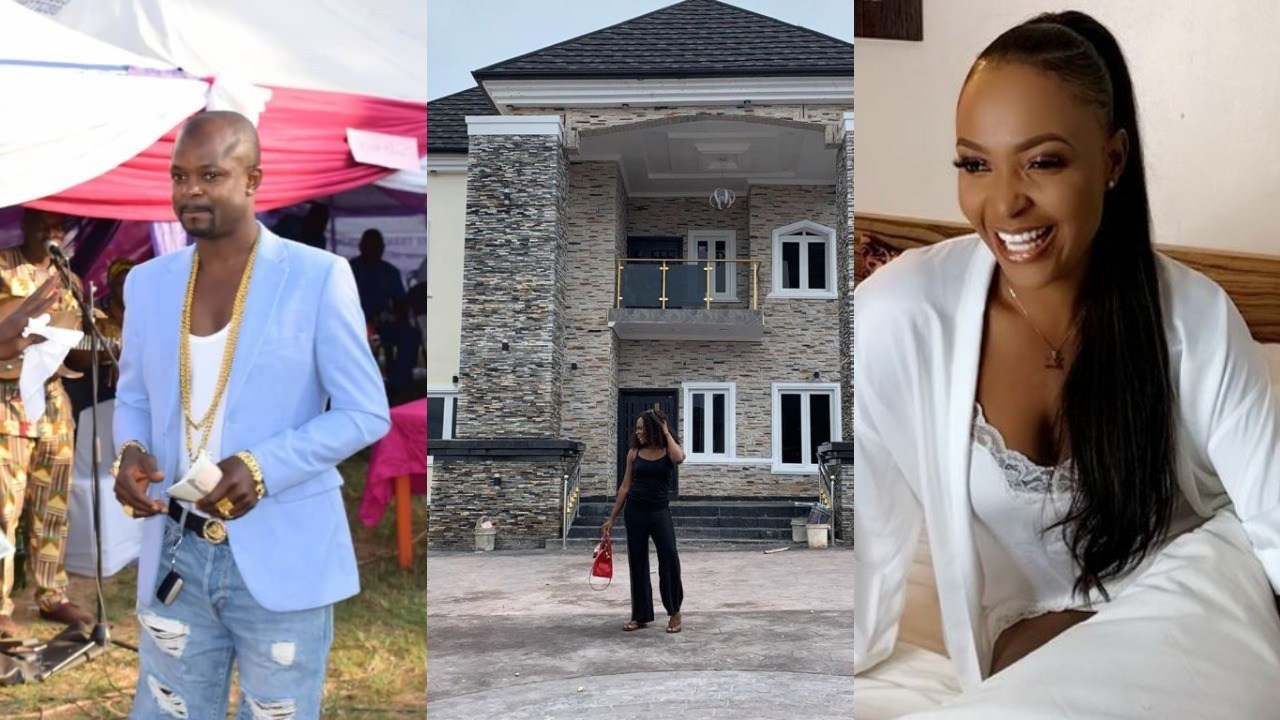 Disgraced blogger and relationship expert, Blessing Okoro Nkiruka has said that the reason why she claimed ownership of a house belonging to a China-based Nigerian billionaire identified as Onye Eze, was because she could meet up with finishing her own house before her 30th birthday.
Blessing Okoro stated this while apologizing to Nigerians and her fans across the world after she was humiliated for claiming Onye Eze's house.
Recall that Blessing Okoro brought ridicule upon herself after she was caught in a lie in which she claimed ownership of a house belonging to a Nigerian billionaire identified as Onye Eze on social media.
Blessing shared photos of Onye's seven-bedroom mansion and claimed she built it 8 years after her husband threw her out of his one-room apartment.
Unfortunately, the real owner's attention was drawn to what some termed as a fraudulent move and made sure to teach Blessing Okoro a lesson.
Many have branded the blogger a 'house claimer' and a 'liar' on social media and for that reason have dragged her to the ends of the earth. Some have even adviced her to stay off social media but Blessing thinks otherwise.
In a bid to salvage her reputation, the Blogger has now apologized to all Nigerians for being deceptive.
"Hey lovers.. I know it has been crazy lately and I am sincerely sorry.. I take responsibility for everything.. I hate that I had to put my friends and everyone else who looked up to me in this position.. Like everyone else I had goals set up for the year and one of them was to finish my house before my 30th birthday and it was a resolution I had layed out in public but because of certain reasons I couldn't meet up the dead line and that put me under a mental pressure for success.
"I was impatient which led to beating myself too hard and I could have done better.. I AM REALLY SORRY I LET YOU ALL DOWN…I know better now.. I know not to go ahead of my victory and have small wins celebration.. Here's to everyone under any sort of pressure.
"I had to experience a major meltdown to learn that patience is virtue.. Its only going to take a little time but the lines will eventually fall in pleasant places.. And for the incessant calls and text messages from my loved ones that were terrified seeing me on cuffs I was never arrested or detained and no police officers was associated with the act .it was thier best form of proving a point.
"But i am grateful to everyone who stood by me, I hope you still find a place in your heart to forgive ,love me and accept me as the crazy happy girl you have always loved .
Thanks for not giving up on me entirely."
See the post below:
https://www.instagram.com/p/ByLgIlzJwEF/?utm_source=ig_embed