Nigerians have reacted negatively to the comments of a former Secretary to the Government of the Federation (SGF), Mr. Babachir Lawal during an interview on Channel Television's "Politics Today" anchored by Seun Okinbaloye, where he condemned the fielding of Asiwaju Bola Tinubu and Kashim Shettima; two Muslims as the presidential and vice presidential candidates of the ruling All Progressives Congress (APC) respectively.
Bachir Lawal who was acquitted a week ago by the court of N544m "grass cutting" fraud allegation bordering on alleged diversion of funds, criminal conspiracy and corruption noted that the north would only support a political party that is capable of winning and Peter Obi and Datti Baba Ahmed of the Labour Party is a good pair.
The former SFG disclosed that Muslims dominate many appointments in the north, saying that out of the 27 universities in the north only five have had Christian Vice Chancellors.
He gave instances of Ahmadu Bello University and the University of Maiduguri, which he said have never had a Christian Vice Chancellor since they were established.
Nigerians didn't find the comments funny and took to the social networking app Twitter to vent their frustrations.
Ishmael wrote:
"it's so sad to see a man who call himself a Pastor playing the card of religion, he claimed Christians are not allowed to be VC in Adamawa, the last I checked for 16 years the PDP ruled Obasanjo/Jonathan both Christian, they could have appointed one if it really not about competence.

"Babachir also said Christian across all MDAs were being trained both locally or internationally, that claim is totally false and misleading and should be condemned. We have more Christian As CEO/MD/Directors/Coordinator  across all MDAs."
Tony4Real wrote;
"if what he was saying was the norm, why didn't he as SGF, intervene. Using the power of his office to change it. Now, as a floor member and a bigoted religionist, he is prancing from one TV Station to another yarning dust. Babachir is a political van der val, oblivion awaits him!"
Olasumbo Apanpa, Wrote:
"when he was busy looking for easy money, contracts that he won't execute, but pocket the money. This man is a disgrace and shameless liar!"
Ahmad K Dutse wrote: 
"I felt disappointed listening to him but that's what there are told Taraba and Jos have never allowed any Muslim to rule just even deputy governor them no go get Gombe Kaduna, Nassarawa they all have deputy Christian they cry more…"
T.Laoshl, who also lambasted Lawal, wrote;
"Lol, this man dey whine us. He wants to use religion to corner notes. Clown. Go and ask CAN.
J.O.M wrote;
"You played the card first by choosing MM ticket now, it's a sin if another man plays same card. Keep crying."
Olusegun Olopade wrote;
"These one makes you ashamed to even want to identify with this Christianity thing sef. Same Babachir that was sacked for stealing fa?"
J.M tweeted;
"our politicians whipe up any mention for cards as some people may like to call it that best suit their intentions. No cap. But really, a Muslim Muslim ticket is certainly a desperate move. I am not in support of it.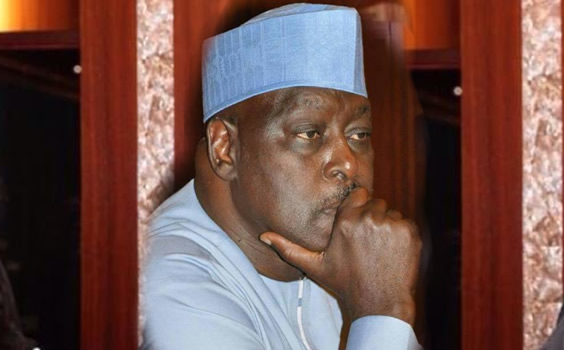 Ugwu Obinna wrote;
"All these cries is because he isn't supporting APC or PDP now, while Abdul S. Abdul commented that; "I blame Seun for not doing his job! Babachir represented the whole North East as the SGF, where at least 70% are Muslims. When he was kicked out for Grass Cutting scandal, another Christian was appointed to replace him. How many VCs from Jos, Benue, Taraba are Muslims?
Dudu By Nature (DBN) reacting to the comments wrote;
"I was very disappointed hearing such from such man. You see why this country isn't moving forward and their petty politician is worst if he gets close to Aso Rock."
Recall that Kashim Shettima was left embarrassed during a town hall meeting with stakeholders in Owerri, Imo State as everyone walked away, leaving him speechless.
While Shettima was delivering his speech at the event, some of the attendees including party faithful, businessmen and women, and traders staged a walkout, resulting in a rowdy session.
The APC vice-presidential candidate, who was left perplexed at the podium when the people staged a walked out on him, called on Imo State Governor, Hope Uzodinma, who ordered called on security operatives to "man the gate" and prevent the stakeholders from leaving. Watch the video.
DON'T MISS: Shettima Calls Peter Obi 'Giringori', Says He Has Nothing to Offer Except Dubious Statistics [Video]