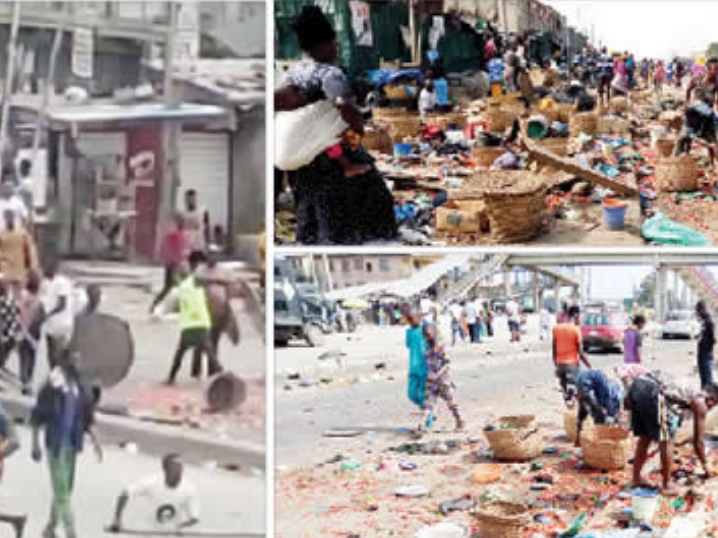 Two persons were feared killed and many others injured on Sunday as Yoruba and Hausa traders clashed at the Ilepo Market in the Oke Odo area of Lagos State.
According to Punch, trouble started when a Hausa porter, popularly known as Alabo or Bolar boy, mistakenly hit a Yoruba man with the tray he was using to convey goods for traders.
The disagreement was said to have degenerated into a fight between the duo.
Soon, hoodlums from both ethnic groups took over the fight, which turned to a free-for-all.
Policemen from the Oke Odo Division deployed in the area were reported to have shot in the air to disperse the hoodlums and bullets hit one of the Bolar boys.
Angered by the development, the Hausa mobilised and stormed the Ilepo Market with stones, bottles and arrows, looting goods and injuring people.
The Yoruba were said to have assembled at a side of the road, as the two groups blocked the Lagos-Abeokuta Expressway and attacked one another.
Police teams consisting of the Rapid Response Squad, Lagos State Task Force on Environment and Sanitation (Enforcement) Unit and Mobile Police, later calmed the situation and restored traffic flow, which had been stalled by the affray.
Broken bottles, tomatoes, pepper, oil and tubers of yam littered the expressway, as many traders lamented their losses estimated at millions of naira.
Watch the video below:
There is a report of an ongoing fracas btw Yorubas & Hausas at ile-epo market at Agbado oke-odo (Lagos) @rrslagos767 @PoliceNG @TunjiDisu1 ….pls kindly confirm n deploy ur Mehn there! pic.twitter.com/44GUjuZSnT

— Femi Ogundipe (@femmyphronesis) August 18, 2019