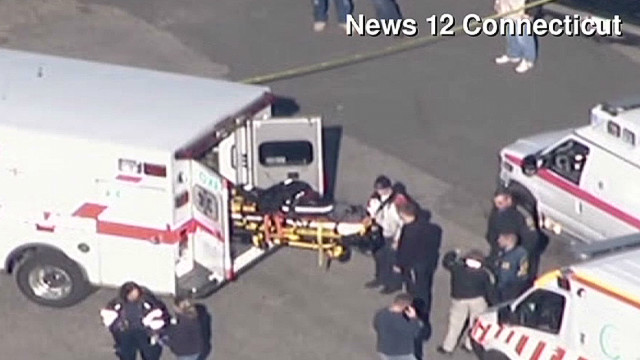 Over 20 people have been killed in a school shooting in Newtown, Connecticut, at least 10 of the dead at Sandy Hook Elementary School were children.
A parent who was inside the school at the time of the attack said she heard what sounded like at least 100 rounds being fired. She said she saw two school employees who had died.
Hospital officials in neighboring Danbury said they were treating three people wounded in the shooting. Danbury Mayor Mark Boughton said the victims were in "very serious" condition.
3rd grader describes shooting from class……continue reading
The shooter is dead, a source with knowledge of the investigation told CNN's Susan Candiotti. The suspect's body is in a classroom at the school, the source said.
Police have recovered two weapons from the suspect, a Glock and a Sig Sauer, the source said. It's unclear if police killed the suspect.
'It doesn't seem possible' — parents shocked by school shooting
Police and teachers rushed students from the building as police swarmed the area shortly after the first calls came in, around 9:40 a.m. ET. Officials moved students to a nearby firehouse, where parents frantically sought information about their children.
Third-grader Alexis Wasik said police and teachers barged into her classroom and told students to hide in the corner.
"Everybody was crying," she said. "And I just heard the police officers yelling."
Aerial images from CNN affiliate News 12 New Jersey showed police officers armed with rifles following a dog into woods near the school.
Other officers, some in tactical gear, stood around the school with guns drawn, CNN affiliate WFSB reported.
All schools in the city were on lockdown Friday as police assessed the situation, state police spokesman Lt. Paul Vance said.
White House spokesman Jay Carney said the administration feels "enormous sympathy" for affected families and pledged federal support for state and local law enforcement.
Newtown is about 60 miles north of New York.