Nollywood actress, Tonto Dikeh is set to celebrate her birthday with a new pair of boobs and she's praying to Jesus for the success of the surgery.
The mother of one had cosmetic surgery done on her boobs last year and is ready to go under the knife again.
Tonto Dikeh revealed this in a post she shared on her Instagram page where she appealed to Jesus to assist her in getting her boobs done by her cosmetic surgeon.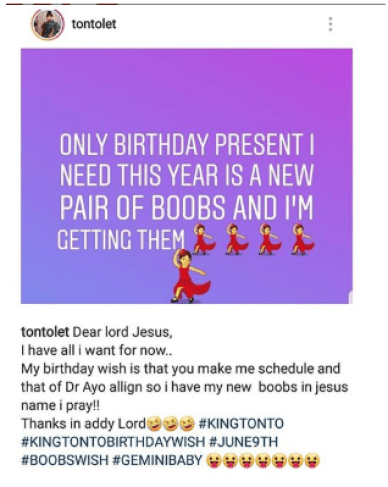 She wrote:
"Dear lord Jesus,
I have all i want for now..
My birthday wish is that you make me schedule and that of Dr Ayo allign so i have my new boobs in jesus name i pray!!
Thanks in addy Lord #KINGTONTO#KINGTONTOBIRTHDAYWISH#JUNE9TH #BUYING ME A NEW BREAST #BOOBSWISH #GEMINIBABY"