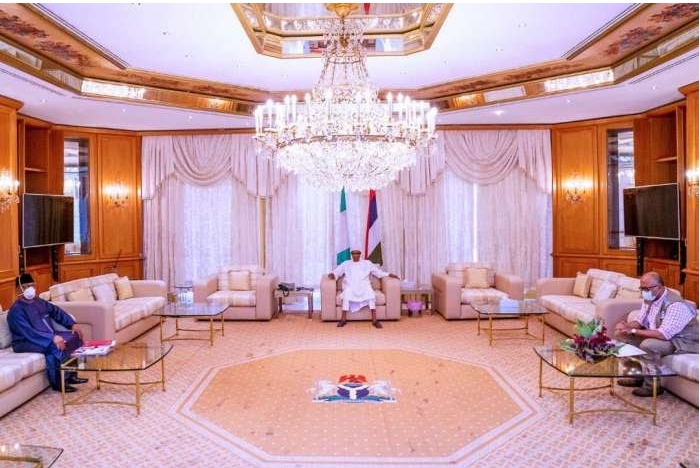 President Muhammadu Buhari has been briefed on new measures to curtail and prevent the spread of coronavirus outbreak in the country.
Buhari welcomed the Minister of Health Professor, Osagie Ehanire, and the Director General of the Nigeria Centre for Disease Control (NCDC) Dr Chikwe Ihekweazu to the presidential villa to keep him up-to-date with the situation across the country.
The presidency shared a video of Buhari receiving Enahire and Ihekweazu at the State House on Saturday, admid calls and concerns about the president's whereabouts.
VIDEO: Minister of Health @DrEOEhanire and Director General @NCDCgov, @Chikwe_I were at the State House (The Residence) this afternoon to brief President @MBuhari on Nigeria's #COVID19 Situation. #Coronavirus

[Follow @NCDCgov @DigiCommsNG @NigeriaGov for regular updates] pic.twitter.com/6b3BZoJ0PQ

— Presidency Nigeria (@NGRPresident) March 28, 2020
The visit to President Buhari was to deliberate with him on the new measure to curtail the pandemic covid-19 across the country.
President @MBuhari this afternoon, received briefings from Minister of Health, @DrEOEhanire and Director-General of @NCDCgov, Dr. @Chikwe_I as Nigeria intensifies and introduces new measures to curtail and prevent the spread of #COVID19 outbreak in the country. #COVID19Nigeria pic.twitter.com/N8svUAfWse

— Bashir Ahmad (@BashirAhmaad) March 28, 2020
President @MBuhari receives #COVID19 briefing from Minister of Health @DrEOEhanire and DG @NCDCgov, @Chikwe_I at the State House | Saturday, March 28, 2020 #SocialDistancing #Coronavirus pic.twitter.com/a6kIGdQI23

— Presidency Nigeria (@NGRPresident) March 28, 2020
Wailers BREAKING NEWS! Exclusive video of @NGRPresident @MBuhari at his "secret location in Dubai" meeting with Minister of Health @DrEOEhanire DG @NCDCgov Dr @Chikwe_I to receive updates on #COVID19
May BuhariPhobia not kill you guy's before #coronavirus pic.twitter.com/B2SpftuYUf

— Kayode Ogundamisi (@ogundamisi) March 28, 2020