Nigerian Crossdresser, Bobrisky has warned his former protege, Lord Casted, to desist from tarnishing his image with claims of contracting HIV after drawing a tattoo with his name.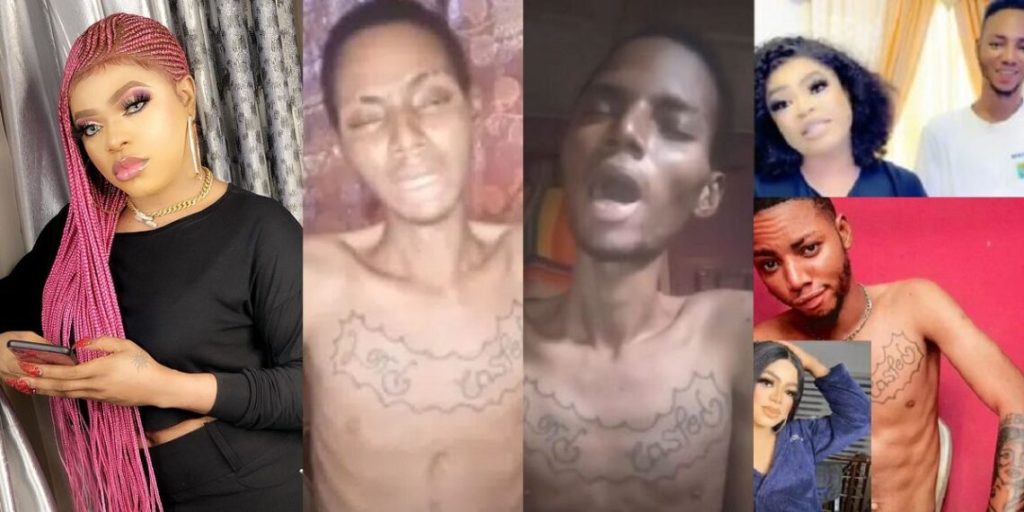 Bobrisky Slams Lord Casted Over HIV Claims
Lord Casted, who tattooed Bobrisky's photo on his arm, had shared a video of himself looking sick, alleging that he contracted HIV while inking the crossdresser's image on his body.
The ailing fan, who alos alleged Bobriksy abandoned him after contracting the infection, claimed he needs financial assistance, urging Nigerians and bloggers to help him beg Bobrisky for forgiveness.
He said, "Hello guys it's Lord Casted. Do you remember the guy who tattooed Bobrisky on his arm? I am here o. All I wanted was just help, now I got the disease from the machine they used to draw the tattoo. I am already taking my drugs, I am okay, I am fine"
"I am shaking like this because I am still taking drugs, so I want to beg all Nigerians, all bloggers to help me beg Bobrisky to forgive me, he should just make sure I am okay, please."
Reacting on his Instagram page, the crossdresser warned the sick fan to desist from tarnishing his image, noting that he had helped him before, but was insults at the end of the day.
Bobrisky, who also accused Lord Casted of lying about contracting HIV, insinuated that his former protege never uses condom during sex because he choose to enjoy it raw.
Bobrisky wrote: "Stop calling my name. If you truly need help stop taking drugs. Lastly stop lying you contacted hiv from the tattoo you drew my name with & . Talk about d big Tatoo on ur chest first why involving my name. Use condom una no go hear e don happen Na bob must suffer it. When you were enjoying it raw i dey help you enjoy am ?
Ask for help not that emotional blackmail video you are doing. If there's one thing i wish or want to erase is helping ungrateful people. lord casted or whatever name you called urself stop calling my name in ur videos.
"I remember d last time i gave you money and help you after few months you rained Insult on me and called me fake. I'm shock seeing ur videos now begging me to help you. Sad only if we all can see what can happen in the future we won't mess things up with our hands."
Watch the video below:
KanyiDaily recalls that Bobrisky's fomer personal assistant, Oye Kyme had also alleged that the crossdresser was intimate with her when she worked for him.