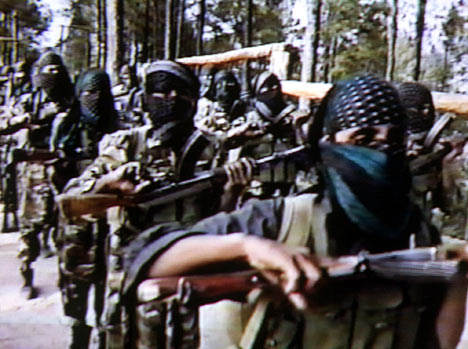 17 "extremists" and one police officer dead, have been left dead after suspected Islamists attacked police posts and a
prison in Kano city.
"A total of 17 extremists were killed by our men. We lost a police
corporal," said Kano State Police Commissioner Ibrahim Idris regarding
the clashes that took place late Tuesday.
The latest unrest in Kano Nigeria's second largest city, repeatedly
hit by Boko Haram Islamists, began when militants launched coordinated
gun and bomb attacks on the Dala, Panshekara and Shallawa police posts.
The Garan Dutse prison was also targeted.
"All these attacks were repelled," said Idris. "Our officers responded and drove the assailants away."
The police commissioner added that three suspects were arrested and
were being interrogated, while officers recovered 14 improvised
explosive devices as well as rifles, ammunition and vehicles.
No group has claimed the overnight attacks, but the violence was likely to be blamed on Boko Haram.
Kano was the site of the Islamist group's deadliest attack yet, when
coordinated bombings and shootings left at least 185 people dead in
January.
The Boko Haram insurgency, concentrated in mainly Muslim north, has killed more than 1,000 people since mid-2009.
Security forces have frequently been the victims of its attacks, though it has continually widened its targets.