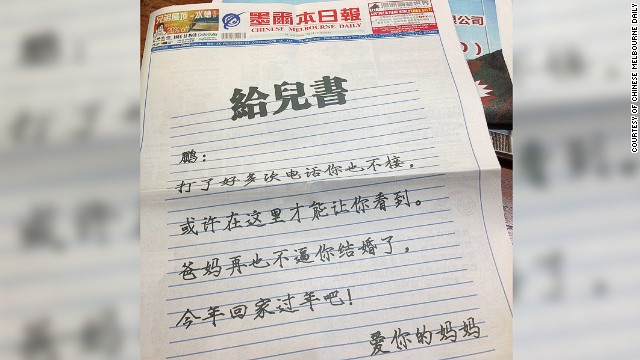 A Chinese mother, desperate for her son to come home for the upcoming Lunar New Year, has placed a full page ad in a newspaper, begging him to come home for the festival.
The ad, which appeared on the front page of the Chinese Melbourne Daily on Tuesday, would cost $2,796.80 American dollars according to its advertising rate card.
See ya head…your seriously reading those images on the newspaper as if you know what your reading abi? Click read more to find out joor
"Dear Peng, I've called you many times but you don't pick up, maybe you will see this,
"Dad and mom won't ever force you to get married anymore, come home for Chinese New Year! From your mom who loves you."
The newspaper, which serves the city's Chinese community, has a circulation of 18,000, according to its website.
The mother, who lives in Guangzhou had placed the ad after losing contact with her son, reported state-media Xinhua news agency.