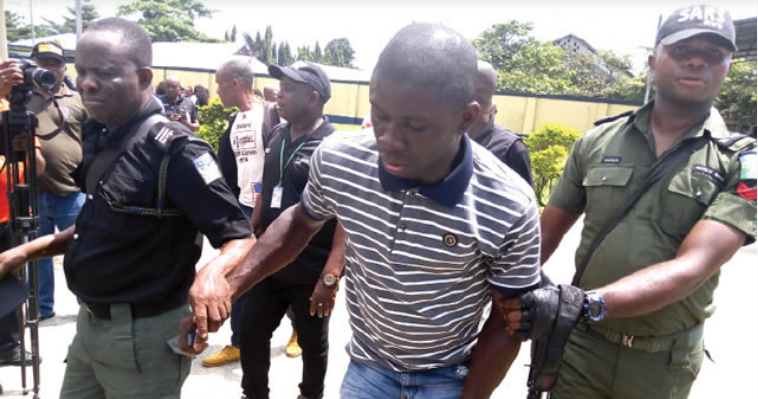 A serial killer, Gracious David-West, who specializes in killing young women in hotel rooms, has claimed that he told his pastor about his criminal acts.
KanyiDaily had reported that the 39-year-old suspect was arrested on Thursday, following CCTV footage which showed him leaving an unnamed hotel in Port Harcourt, after he had allegedly killed the lady he slept with the previous night.
Mr. David-West, who is also a member of the Degbam cult group, narrated in horrific details how he murdered seven women in cold-blood before being arrested by the Rivers Police command.
According to TribuneOnlineNG, the suspect attributed his action to an unknown force, adding that whenever the urge to kill came, he would not stop until he murdered a young woman in a hotel.
"I buy kitchen knives from those Hausa people that hawk knives. After I take them to the hotel and sometime in the middle of the night, I will wake them up and with knives, I would threaten to kill them if they screamed. I will use it to cut the pillowcase with which I tie them so that they cannot drag with me when l want to kill them.

"Some of them in that fear would now promise to give me money so that I will spare them. So, I will collect their ATM cards and their pins. I would deceive them to believe that I will not kill them while tying them up."

"I don't know what is causing that to me, I don't really know what moves me into doing that but after doing it I start regretting, I start crying why I did it."
David West also to the police how he went a Lord Chosen Church and told the pastor that he usually kill girls in hotels.
"After realising my sins, I sought spiritual intervention in a church. I went to Lord Chosen Church close to Obigbo branch. I told the pastor that I kill girls in the hotel that if he can help me that I don't know what is wrong with me.

"The pastor invited me to a crusade saying that I should attend and meet the General Overseer that he would help me. I went to the crusade but there was no chance to see the General Overseer and the Pastor asked me to go that he could not help me.

"So, I left the church and went back and checked into a hotel. Seriously, I don't know what makes me to kill; whenever it comes on me, that is when I kill, later I regret and feel sober but after a while, I would go and kill again."