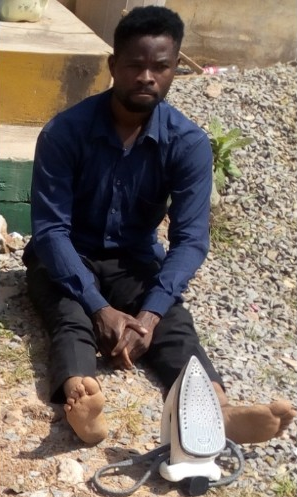 Gombe State Police Command has arrested a 34-year-old man identified simply as Pastor Emmanuel for child cruelty, torturing a 10-year-old boy with an electric iron.
The 34-year-old Pastor Emmanuel with the Eagles Prophetic Gospel Centre in Gombe State, claims that his victim, Daniel James, stole his money, causing him to inflict the cruel punishment.
"The boy was involving in stealing; that has been his character. So, on that fateful day, I decided to punish him in a different way by using an electric pressing iron to threaten him but unfortunately, it burnt him," Emmanuel said.
The pastor explained that James Daniel was the son of an former prostitute who has now accepted Christ and has become a born again Christian.
He also revealed that he brought James Daniel to reside with him after the church he works with helped his mother the former sex worker find a place to live and a new livelihood so she can provide for herself and her other son who is 19-years-old.
"They lived close to an Almajiri School and the boy always had a problem with the Almajiris. So, I took him to live with me. I made a mistake of not reporting him to the police. I always report his character to the mother before I decide to punish him on my own. In the church, everybody knew me to be a very disciplined man,' the pastor said.
The case is still being investigated by Police, the suspect has however admitted torturing little Daniel. The suspect would be formally charged and tried in court once the investigations are concluded.