Actress Etinosa Smokes Using Bible Pages, Islamic Man Dares Her To Try It With Quran [Video]
Nigerian actress, Etinosa Idemudia has received severe backlash from social media users for smoking live on Instagram while using the Bible as an ashtray.
Two days ago, the actress shared an Instgram video of herself smoking and using the bible as an ashtray, saying the bible is a scam.
She was heard saying in the video that nobody can blame her mother for the way she chooses to live her life quoting Proverbs 22:6 saying it's a scam.
"Proverbs 22:6 say: Train up a child when he is young and when he is old, he will not depart from it. Nobody can blame my mother, she trained and trained and still training. And am still departing," she wrote.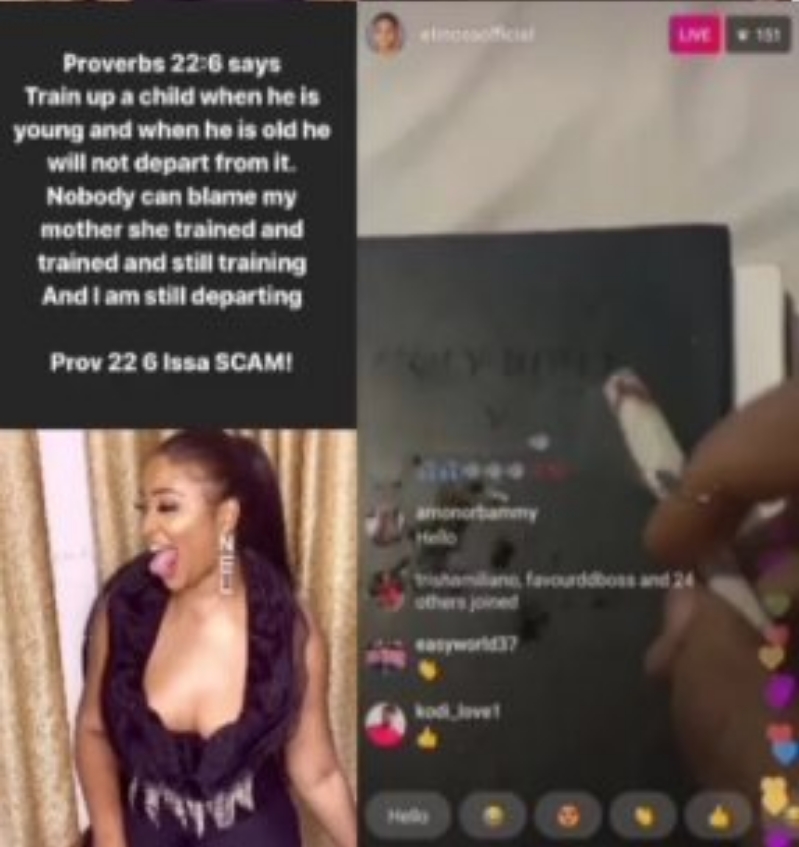 Etinosa's action sparked a lot of reactions from Nigerians who took to her page to ask her if she is cursed?
An Islamic man, who couldn't stand what she did, has now has dared her to try what she did with the Bible with the Quran and see what will happen to her.
https://www.instagram.com/p/B5kOgcHHu6h/?utm_source=ig_embed&ig_mid=A3B65E43-13F6-412B-8FA1-F110235925CB
In reaction, Etinosa demanded for a Quran, insisting that she would mess it up within the next two seconds, as no one has the right to threaten her with a 'textbook' called Quran or Bible.