Some inmates were reportedly shot as a combined team of correctional officers, police and soldiers foiled a revolt and attempted jailbreak at Ikoyi Prison in Lagos State.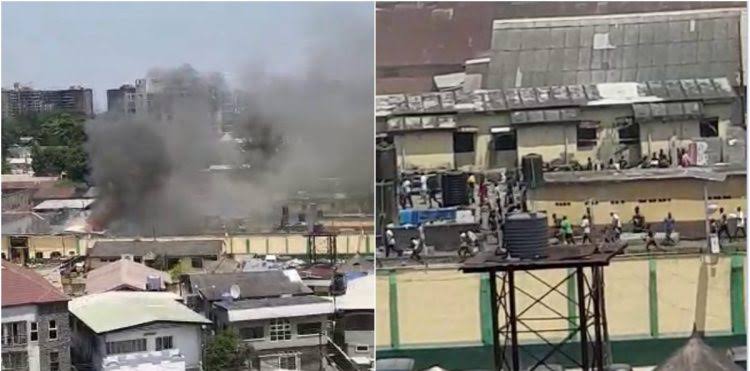 According to the source inside the prison, several prisoners were shot as some imates tried to breach the gate of the prison on Thursday afternoon.
It was gathered that the troops of the Nigerian Army were called in to assist correctional officers who are trying to suppress the attempted jailbreak.
An eyewitness, who wished to remain anonymous, said, "I can see them from my balcony at the moment. Soldiers and policemen have arrived. I saw prisoners throwing stones and I saw fire.
"A lot of the prison officials have gathered at the entrance of the prison while some of the inmates have retreated."
Series of videos circulating the social media shows military personnel and prison wardens foiling the jailbreak. There was also report of fire outbreak at the prison facility.
Watch some of the videos below:
Happening right now at Ikoyi prison #prisonbreak #NIGERIAPREVAILS #EndSarsNow #CongoIsBleeding #ENDBADGOVERNANCE #Endsars https://t.co/SRkndBJeEF

— Ikoyi Prison (@troycevibez) October 22, 2020
Ikoyi Prison https://t.co/8ukJqlWSFV

— Bunny Queen🐰 #EndSARS (@Praize_cassey) October 22, 2020
#NIGERIAPREVAILS
Ikoyi Prisons pic.twitter.com/qArg7HRsZR

— 🕹INFAMOUS AMA says #ENDSARSNOW !!! 🇳🇬🏦 (@infamous_ama) October 22, 2020
Ikoyi Prison #EndsSARS #EndBadGoveranceInNigeria #EndSarsNow pic.twitter.com/c8LvjOFIiu

— Ajayi Olu-toyin (@OtunbaTeeA) October 22, 2020
Ikoyi prison on 🔥🔥🔥 pic.twitter.com/vklWQZwGzv

— Jhinnyvibez (@Jhinnyvibez1) October 22, 2020
Ikoyi Prison….#Endsars
pic.twitter.com/WD8AFVijZI

— Omo Yagba🌬️ #ENDSARS (@OladapoMikky) October 22, 2020
The attempted jailbreak in Lagos is coming three days after hundreds of prisoners escaped from the Benin prison.