"You're A Fat Fool" – Tonto Dikeh Slams Foluke Daramola For Taking Sides With Olakunle Churchill
Nollywood actress, Tonto Dikeh has slammed her colleague, Foluke Daramola, for taking sides with her ex-husband, Olakunle Churchill, in their feud.
KanyiDaily recalls that Dikeh had recently attacked Churchill on social media for celebrating the birthday of their son, King Andre, who turned seven on February 17.
Foluke, who is a friend of Churchill, described him as her brother and took to his defense while berating Dikeh for her behavior, saying she doesn't know the implication of what she was doing.
During an argument with a fan, Foluke, who is also a single mother, said she doesn't expose her children to bitter people like Dikeh who has refused to move on since her divorce from Churchill.
Tonto Dikeh's fan wrote, "Advise your only brother to pay school fees and show Teller…. Not those obsoletes evidence… It's is well with him"
Foluke replied, "Really?? Very funny so he should start saving receipts and showing u pls as what?? If only the mother understands the implications of these things being done. But unfortunately what is [email protected] is now the norm. So sad".
"U had better advice her mentor to move on I have been a single mother b4 and I don't expose my children to bitter people like this, there had been love and find memories at a point is time and a life at that, that should be respected all this back and forth is just unnecessary. Something's are appreciated being kept secret. Olakunle Churchill is my friend and brother that I respect his privacy so I will not go to the gutted with u on what's his personal life. Thinks b4 u write".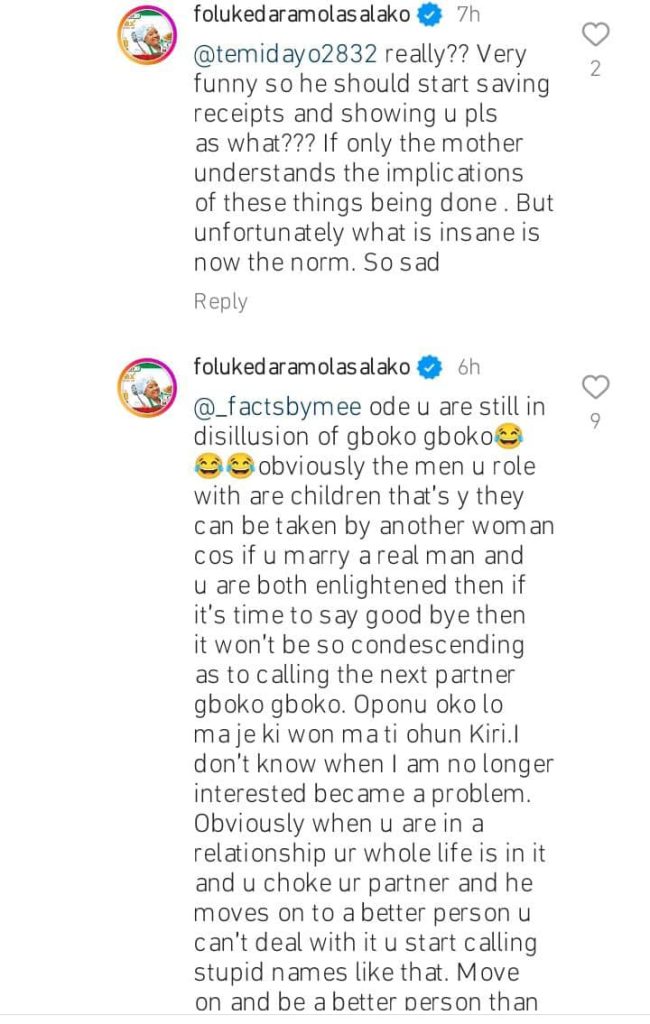 Reacting to Foluke's comment, Dikeh described her as "fat fool" while revealing that she avoids Yoruba actresses because she doesn't want to sleep in a shrine.
Dikeh who also claimed that no one came to Churchill's aid when he allegedly needed money for their wedding, further stated she would come for Foluke if she gets involved again.
She wrote, "@Folukedaramolasalako respectfully MA you are a FAT fool. Your brother/ friend brought out fake watch receipts, fake audio car gift receipt but can't bring out SCHOOL FEE AND CHILD CARE receipt? Take your side but while doing that get my name/or referring to me out of your unsaturated fat Mouth.
He is your brother now but none of you could borrow him money for wedding, he is your brother you respect then shut the fuck up and keep respecting him but if you disrespect me in the process I will tell you tha age Is nothing but a number.
FAT FOOL, you are atleast 10/13 years older than I am if you don't act accordingly. I will reduce you to my age.. I don't Smile with you fetish actresses, pls keep the same energy. I'm glad you are also a single mother, May you find yourself in a worse situation. AMEN. FREE ME or be READY FOR ME."
"We can all be mad since this scumbag thinks she knows my story better than I do. I fear and avoid you guys. I avoid these Yoruba actresses because I don't have power to sleep in shrine, plss as I avoid you avoid me. If the fans provoke you fight the fan don't involve me."
KanyiDaily recalls that Churchill had recently shared a post where he celebrated Andre's 7th birthday, revealing that he misses his son and hopes to see him soon.
Reacting to the post, Tonto Dikeh liked a post shared by her colleague, Doris Ogala, who described Churchill as a 'fool and idiot', accusing him of only remembering Andre on his birthday.