Nigerians Who Bully People Online Are Not Different From Street Thugs – Toke Makinwa
Media peronality, Toke Makinwa claims that Nigerians who bully people on social media are not different from street thugs.
The social media influencer stated this on her Instagram page while reacting to people's conduct during the just concluded presidential and national assembly elections.
According to her, the problem of Nigeria is not bad leadership rather the people who who engage in online abuse while claiming to be different from street thugs.
Makinwa admonished social media users to stop complaining about election violence because the only difference between online bullies and street thugs is education and access to data.
She wrote, "The past election weekend has been a wild one in Nigeria and through it all, one thing stood out for me. The problem of Nigeria is not bad leadership but the people. You see the leaders we complain about were once like you and I. We all need to do better. (Myself included).
"From bullying people who stayed quiet for reasons only known to them (they don't owe you anything), to bullying those who spoke but didn't say what you wanted to hear, then the drama online from some public figures to the countless Instagram lives and the need to fight everyone who didn't support your choice of candidate, what exactly is the problem???? The real enemy is Poverty, corruption, tribalism and Hate. Why are we bent on pulling each other down???
"How can I forget the group of people who didn't vote but contributed from the comfort of their homes pressing phones, and of course the "fake" woke group who suddenly became prophets, scholars and historians, phewwww! We want better, we need to do better simple.
"You don't have to understand anyone's choice of candidate but you must respect their "choice". If you cannot make your point without insulting anyone then simply keep quiet and you cannot force anyone to share your opinion too.
"You can disagree with someone without hurling insults and threats at them, let's try healthy ways of communicate going forward. Vote your vote and focus on your focus.
"There is really no difference between you and the thugs at polling units, just data and education as Darey put it. We can all do better and the new Nigeria you desire starts with you."
"You bully people on Twitter if they vote for a candidate you don't like. Thugs bully people on the streets if those people vote for a candidate they don't like.
"Stop complaining about election violence then because you sef for dey street. Na education separate una," Toke Makinwa added.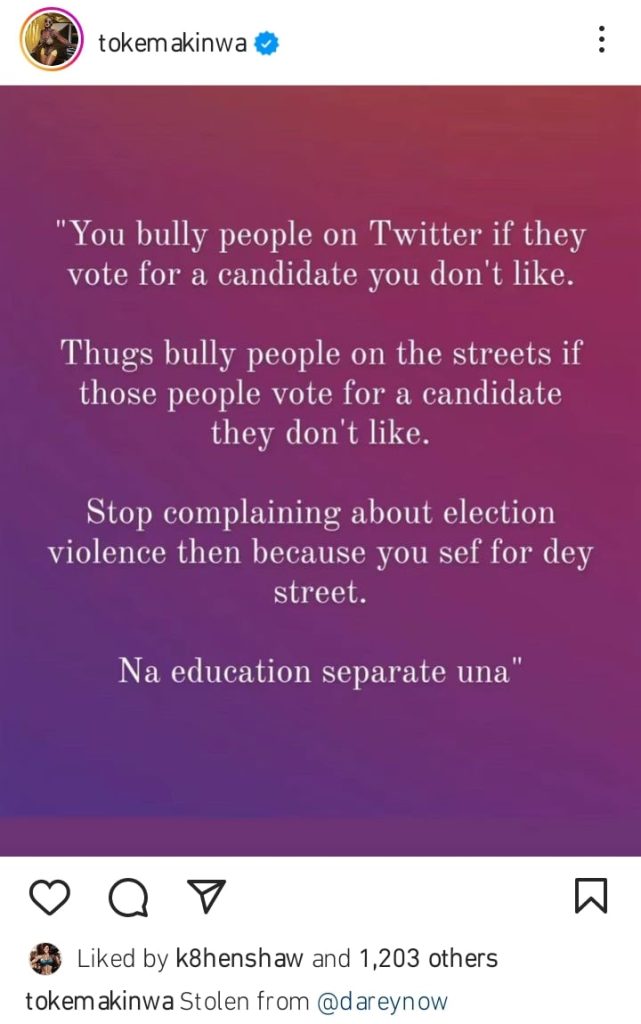 KanyiDaily recalls that actress Uche Jombo had also called on Nigerians to stop bullying people because of who they support and wish to vote for in the elections.