Tinubu Is Really The People's Choice But A Lot Of Them Are Scared – Toyin Abraham
Nollywood actress, Toyin Abraham has continued defending the controversial victory of the president-elect, Bola Tinubu.
Tinubu of the ruling All Progressives Congress (APC) won the 2023 presidential poll, but the three top opposition parties called for a cancellation of what they called a "sham" of an election.
A Twitter user had asked Toyin Abraham if Tinubu is truly the candidate people voted for during the election which was trailed by violence and alleged rigging and manipulations of results.
"Aunty Toyin, is Tinubu the people's choice? Did he win the election?" the Twitter user, @OgaKnowledge, asked her
Reacting to the question, Toyin responded affirmatively saying that Tinubu is really the people's choice, but a lot of the are scared because of insults and bullies from opposition parties.
The actress, who was mercilessly dragged on social media for supporting Tinubu, used herself as an example, noting that many people didn't support Tinubu publicly, but voted for him at the poll.
Toyin believes that Tinubu would do better for the country, as she called on Nigerians to focus on building and making the nation great.
"Yes, darling he is. A lot of people are just scared of bullies and curses so they didn't say anything but they voted for him. I know a lot like that. Imagine all the curses I got but it's fine. It's all past tense now at least he is our President. So let's all just focus.
Let's focus on building and making our country great. Hope that answers your question, my love," the actress wrote.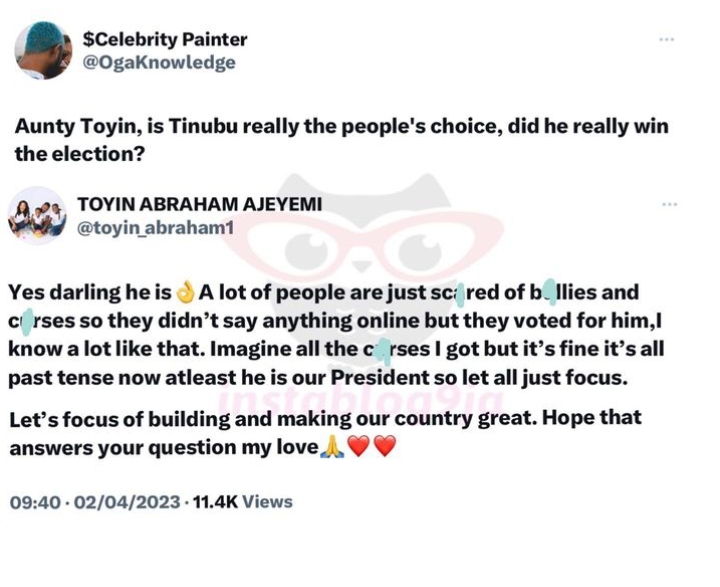 KanyiDaily recalls that Toyin Abraham had previously admitted that the APC unleashed mayhem during the presidential and governorship elections.