The Department of State Services (DSS) has reportedly arrested and detained former Zamfara State governor, Senator Abdulaziz Yari after allegedly ignoring multiple phone calls from President Bola Tinubu.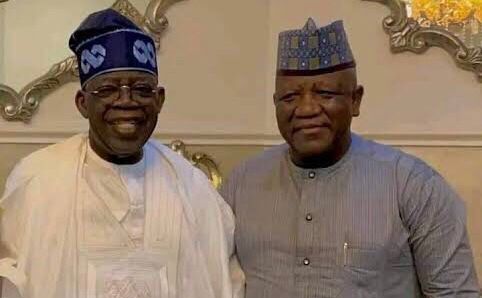 According to Peoples Gazette, Senator Abdulaziz Yari has spent two nights in DSS custody after he allegedly refused to pick multiple phone calls to his lines from President Tinubu last month.
Sources familiar with the situation said Yari was arrested on Thursday morning and detained for "thinking the president is a joke."
The sources, who spoke on condition of anonymity, cited concerns about potential backlash from Tinubu, whom they described as becoming a ruthless and vindictive leader.
One official said that Yari was questioned about ignoring the president's phone calls during the Senate leadership battle, to which Yari argued that he had the right to contest for the position and that decisions regarding his political career should not come from the president.
Tinubu reportedly appealed to Yari to step down from his ambitions, referring to the previous emergence of Bukola Saraki as Senate President, which was seen as an error that hindered President Muhammadu Buhari's first term.
"He was asked why he ignored the president's phone calls during the Senate leadership battle," an official said.
"He started arguing that he has every right to contest for the position and decisions about his political career moves should not come from the president.
"The president was trying to appeal to him to stand down his ambition to make sure any fate similar to how Bukola Saraki became Senate President in 2015 won't be repeated.
"We all knew that Saraki's emergence back then was the first error President Buhari made, and it crippled his first four years in office," the official allegedly told Gazette.
Yari received a call from the director-general of the DSS, Yusuf Bichi, instructing him to report to the agency's headquarters for an urgent discussion.
However, upon arrival, Yari was made to wait and was eventually informed late on Thursday that he would not be allowed to leave.
"His phones were confiscated, and he may be spending days, if not weeks, in custody," the source added.
The senator's planned visit to former President Ibrahim Babangida with other Senate colleagues was canceled as a result.
It was gathered that Yari was also asked about transactions he received from the  Central Bankof Nigeria (CBN), which officials are treating as suspicious but which the senator reportedly explained were legitimate.
"He told them the money from the CBN was from consultancy he did for the forum of governors and he still has an outstanding balance to collect from the CBN," a source familiar with Mr Yari's interrogation said.
CBN spokesman could not be reached for comments Friday night.
An official said that Yari's detention could continue if his colleagues in the National Assembly do not demand his release forcefully.
Like President Tinubu, the former Zamfara governor is also a member of the ruling All Progressives Congress.
But he poked the president's ire last month when he declared plans to be Senate President at the resumption of the 10th National Assembly.
Yari advanced his push to be Senate President even after party leaders publicly endorsed Godswill Akpabio for the position, on the account of Akpabio's southern Christian identity and second Senate term.
Yari, representing Zamfara West Senatorial District, is a Muslin from the North-West. The party sought to balance equity within its ranks by ceding the Senate presidency to a Christian from the South-South.
The decision was because Tinubu is a Muslim from the South-West and Vice-President Kashim Shettima is a Muslim from the North-East. House Speaker Tajudeen Abbas is a Muslim from Mr Yari's region.
Federal lawmakers, unlike the president and vice-president, have no constitutional immunity from arrest and criminal prosecution.
A spokesman for Akpabio, who emerged the Senate President on June 13 after defeating Yari 63-46, did not immediately return a request seeking comments.
A phone number for the presidency did not also connect on Saturday morning.
KanyiDaily recalls that President Bola Tinubu was also accused of planning to reward Nyesom Wike with a ministerial job as a token of gratitude for manipulating the Rivers presidential election in the president's favour.