A 6 Foot long snake yesterday bit one of Nicki Minaj's dancers during rehearsals for MTV Video Music Awards will take place on tomorrow night.
The 31-year-old rapper was on stage rehearsing when a snake bit a female dancer positioned toward the back of the set. The dancer had the reptile wrapped around her shoulders during the performance run, when all of a sudden, it bit her on the inside of her left arm. The music was stopped shortly and Minaj – completely unharmed – immediately moved across the stage to check on the dancer to see if she was fine, MTV News reported.
Immediately after the incident, the snake's handler from Hollywood Animals removed the reptile from the stage.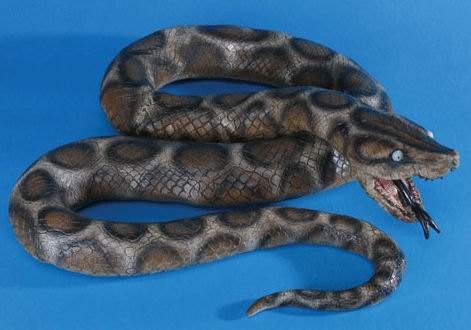 The injured dancer was then treated by an on-site medic. Though the snake's bite is non-venomous, the wound was still cleaned to avoid infection. The woman, even though her condition was not life-threatening, was still transported to a local hospital out of "an abundance of caution," said Chris Velvin, director of production safety for Viacom Media Networks.
"It is in no way life-threatening, but scary," said Velvin. "We wanted her to start getting treatment as soon as possible."
The snake that bit the woman is a Dumeril's boa constrictor named Rocky, which has been in the entertainment business for 15 years. The production runners intend to use a different snake, either another boa or a python, for the live VMA performance Sunday, Aug. 24.
The snake's handler added that such biting incident had never happened before.
Minaj would not be the first star to appear on stage with a snake at the VMAs. In 2001, Britney Spears performed her hit "I'm A Slave 4 U" at the awards show with a yellow python wrapped around her neck.