Finance officers at a zoo in Kano State have come under mockery for claiming that a gorilla swallowed over N10million from their office.
KanyiDaily.com gathered that the money was generated from tourists who trooped to the Kano Zoological Gardens to celebrate the Eid Fitr holiday.
BBC Pidgin Journalist Okwoche shared the shocking news on Twitter. He wrote;
Finance Officers at a zoo in Kano State, Northern Nigeria claim that a huge Gorilla sneaked into their office and swallowed N10million (about $30k). The money was revenue generated from tourists who visited the zoo during the Eid celebrations. #mypipoMypipo
This is not the first time stories of animals swallowing money has circulated in Nigeria. In February 2018, a mystery snake sneaked into the accounts office of the Joint Admissions and Matriculation Board, JAMB, in Makurdi, the Benue State capital and made away with N36 million cash.
A team of auditors was dispatched to JAMB offices nationwide, on their arrival at the Makurdi office  a sales clerk, Philomina Chieshe, told JAMB registrar and his team that she could not account for N36 million she made in previous years before the abolition of scratch cards.
In the course of interrogation, Philomena confessed that it was her housemaid that connived with another JAMB staff, Joan Asen, to "spiritually" steal the money from the vault in the accounts office.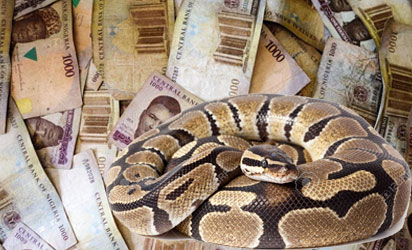 She said:
"I was one of the four sales clerks attached to JAMB office in Makurdi. My responsibility was to sell scratch cards to candidates and not involved in handling the revenues. It was the responsibility of Joan Asen and my other senior colleagues. I only remit money when am done selling the cards.
Philomina in her confessional statement said that Joan Asen and her accomplices confessed that they have been stealing the money "spiritually" through a mysterious snake that always sneak into the office to swallow the money from the vault.
According to her
"It was a mystery to me too. I have been saving the money in the bank, but I found it difficult to account for it. So I started saving it in a vault in the office. But each time I open the vault, I will find nothing. I became worried and surprised how the millions of Naira could be disappearing from the vault. I began to interrogate everybody in the house and office, and no one could agree on what might have happened to the money. I continued to press until my housemaid confessed. She said that the money disappeared "spiritually". She said that a "mysterious snake" sneaked into the house and swallowed the money in the vault."
In the same February of 2018 a senator alledged that N70m handed over to the Northern Senators Forum was allegedly swallowed by monkeys in a farm owned by Senator Adamu.
Meanwhile, a lady has gone on a one man protest in Abuja after a Rivers State Lawmaker reportedly raped her sister while Nigeria's First Lady Aisha Buhari now wants to be addressed as First Lady of Nigeria instead of "Wife of the President"