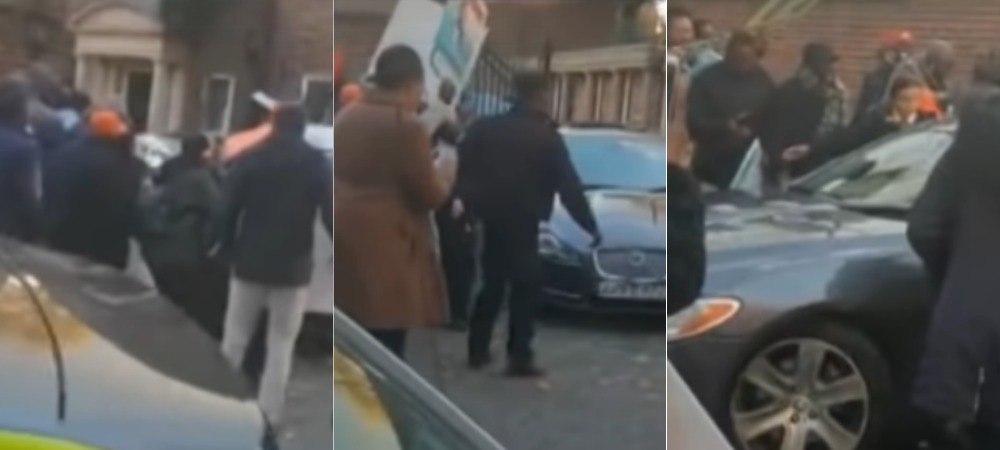 A Nigerian official believed to be President Muhammadu Buhari was ambushed by some a group of protesters at the Abuja House in London.
The protesters ambushed President Buhari in his black-painted car with a Nigerian diplomatic plate number (FGN1), while he was trying to get into the Nigerian house in London.
They were following his car carrying placards significantly demanding for the release of the detained convener of RevolutionNow, Omoyele Sowore. Others condemned the treatment of the leader of the Shiite movement in Nigeria, Ibrahim El-Zakzaky.
"Buhari, Stop Poisoning Sheikh Zakzaky," one of the placards read.
"Omoyele Sowore is not a criminal," another placard read.
It is not clear if the president was in the vehicle or inside the building while the protest and the boos went on.
However, in a video published by Premium Times, the protesters could be heard shouting various chants "ole, ole, ole…" meaning "thief, thief, thief…." while mentioning the name of the Nigerian president.
The protesters also condemned the disrespect for the courts by the Nigerian government.
Watch the video below:
President Buhari is currently in London for what the presidency described as a private visit.
He has spent over a week in the UK during which he has continued to perform the functions of the Nigerian president including signing a bill into law.