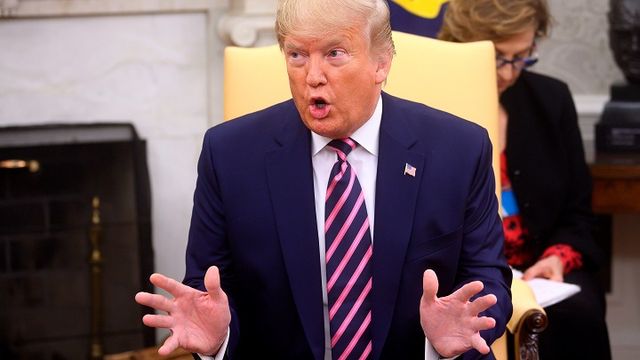 United States President, Donald Trump has lashed out following his impeachment by the house of Representatives on Wednesday evening.
KanyiDaily had earlier reported that President Trump was impeached by the house on charges that he abused the power of his office for domestic political advantage and subsequently obstructed Congress' abilities to hold him accountable.
Trump was impeached after 230 members of the House of Reps voted against him in his alleged abuse of power.
Following the impeachment votes, Trump is now set to face a trial in the Senate which will determine whether to convict and remove him from office next month.
And if booted from the White House next month, Donald Trump will becomes the third US president in history to be impeached by the House of Representatives.
Reacting furiously on his Twitter page, President Trump described the impeachment vote as 'assault on America.'
Writing in capital letters in a tweet Wednesday, Trump said "SUCH ATROCIOUS LIES BY THE RADICAL LEFT, DO NOTHING DEMOCRATS. THIS IS AN ASSAULT ON AMERICA, AND AN ASSAULT ON THE REPUBLICAN PARTY!!!!"
Speaking during his appearance in Battle Creek, laughing and smiling as he told supporters: 'It doesn't feel like we're being impeached.'
He described the impeachment as a shame to democracy, claiming that the Democrats have "branded themselves with an eternal mark of shame."
Trump likened the impeachment proceedings to a "political suicide march", CNN reports.
According to him, the Democrats have declared war on American democracy with his impeachment.
"In reality, they are not after me but after you. I'm just in the way
"You are declaring war on American democracy. You are the one interfering. We did nothing wrong; this is just an excuse.
"You are the one obstructing justice. With today's illegal unconstitutional and partisan impeachment, the do-nothing Democrats are declaring their deep hatred and disdain for the American voters.
"Have you seen my polls?" Trump said.
"After three years of sinister witch hunts, hoaxes, scams, the House Democrats are trying to nullify the ballots of tens of millions of patriotic Americans," he said.
President Trump further called on his supporters to "vote the house speaker, Pelosi out of office.
"Americans will show up by the tens of millions next year to vote Pelosi the hell out of office," Trump added.
Watch the video below: