A young man simply identified as 'Tallest' has been apprehended by residents of Abakeleke street in Awka, Anambra State, for slapping a another man to death.
A Facebook user, Akie Efine Ifeanyi who shared the news, said just one slap from Tallest led to the death of the deceased during a disagreement at an Awka club last night.
Sharing photos from the scene on Facebook, Ifeanyi wrote:
"Just one slap from the guy on red T-shirt, he collapsed and die. This happened yesterday night at Abakeleke street Awka (club zone)."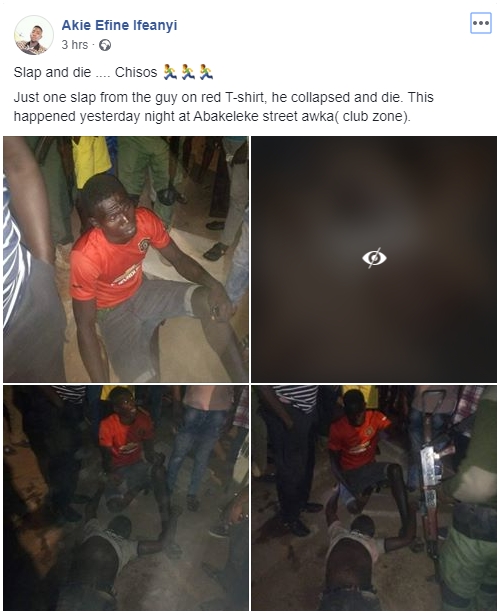 Meanwhile, a Nigerian man identified as Ramske Wire has taken to his social media page to narrate his bitter experience with girlfriend after he slapped her.
Sharing photos of his swollen eye, the man said he realized his mistake after he slapped her and apologized, but she turned a deaf ear and rather chose to report him to Area Boys to be dealt with.