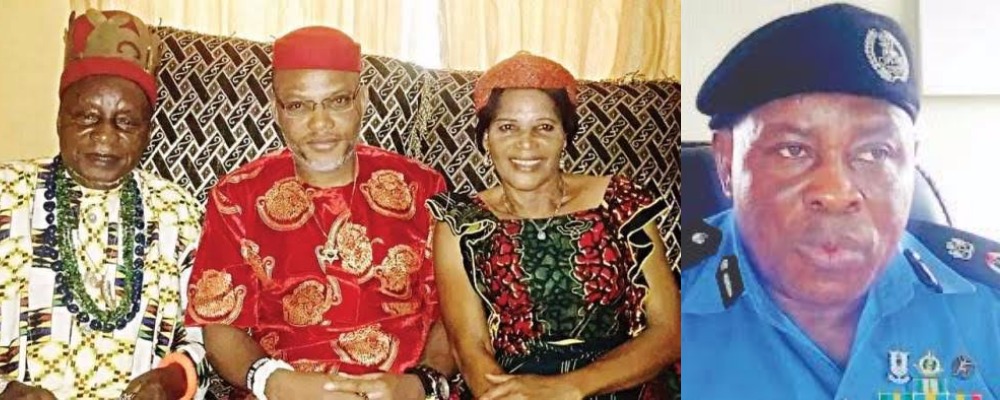 Abia State Police Command says it would not allow members of Indigenous People of Biafra (IPOB) to participate in the burial of the parents of their leader, Nnamdi Kanu.
KanyiDaily had reported that Nnamdi Kanu's father, Eze Okwu Kanu, who is the traditional ruler of Afara Ukwu Umuahia community in Abia State, and his wife, Ugoeze Sally Kanu, will be buried on February 14, 2020.
Ahead of the burial this week Friday, Abia State Commissioner of Police, Mr Ene Okon said if IPOB members were seen anywhere around the burial venue, the police would scatter the burial.
The CP said he had reached out to the traditional prime minister of Afaraukwu, Kanu's hometown, to make it clear that the burial would not hold if IPOB members attended or participate in anything during the funeral.
"Whoever thinks along that line is fooling himself. IPOB will dance during the burial and the police elephants will dance too," he said.

"They (Afaraukwu community) should tell IPOB not go near the area, let alone participating in the burial.

"If the community fails to adhere to the police's warning the burial will not go on smoothly because we are going to scatter the place. IPOB is proscribed by the Federal Government."
Okon added that no one should expect him, as the Commissioner of Police, to sit and allow a proscribed group operate in the state.
"We will not tolerate any flag, IPOB insignia or the group's member disguising as Jewish or Zionist Church members during the burial."
He insisted that the police would only provide security for the burial on the condition that no member of IPOB would be seen around the venue.
KanyiDaily recalls that the Police Commissioner, Eno Okon also made it clear that police will not spare Nnamdi Kanu if he sets foot in Abia for his parent's burial or any other thing for that matter because he was declared wanted.