A bride, a groom, a pastor and 50 other guests were arrested for defying coronavirus lockdown orders for a wedding in South Africa.
Series of photos and videos shows the couple being whisked away by the police on their wedding day for violating the 21-days lockdown restrictions by the government.
According to reports, the couple had spent a lot of money to prepare for their big day and could not fathom the thought of postponing it to a later date. They decided to then break the law and conduct it anyway, risking coronavirus spreading among the guests.
Police officers and military men stormed the tent where the wedding was taking place on Saturday and arrested all the 53 people in attendance.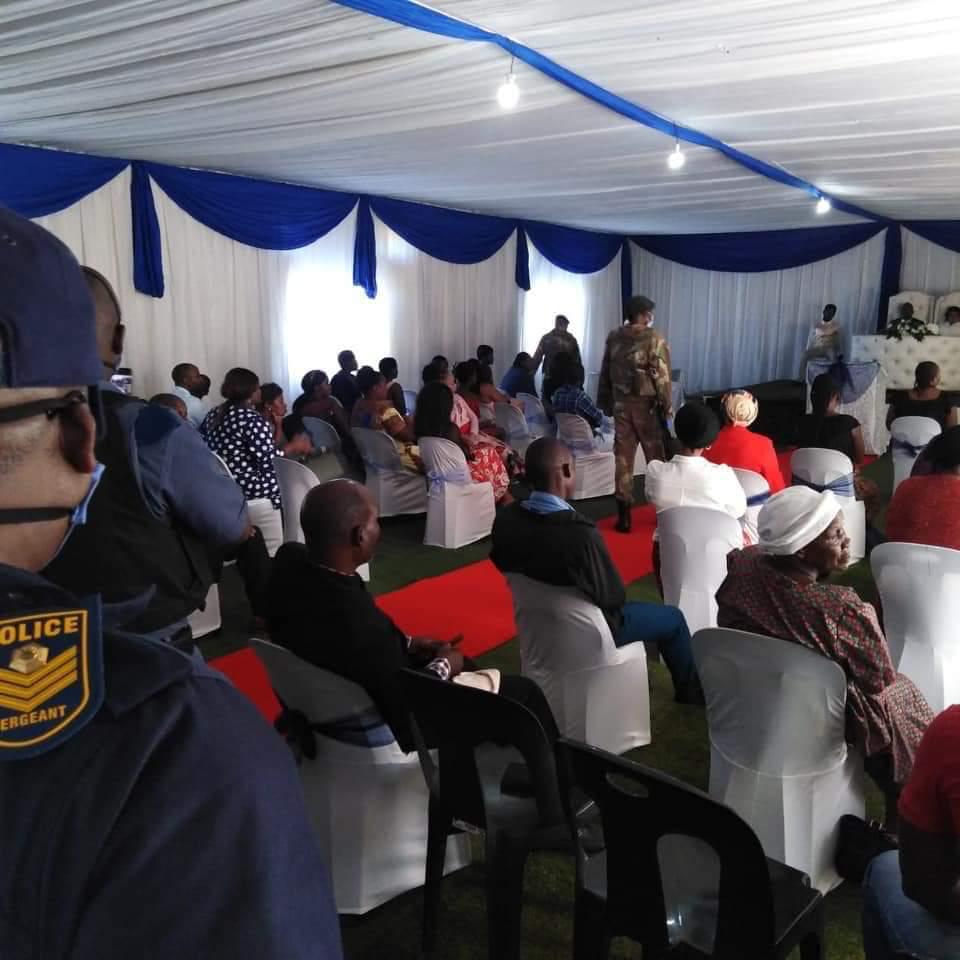 The Police spokesperson, Brigadier Vishnu Naidoo, who confirmed the incidenti on Sunday, said the arrest waere made after a whistle-blower told the police a wedding was taking place in the area.
"We arrested 53 people, including the bridegroom, his bride and the pastor for violating the Disaster Management Act," said Naidoo.
He told South Africans that members of the public were giving them information on illegal gatherings because they were concerned about the spread of the coronavirus.
Naidoo urged people to stop trying to have secret gatherings, saying the police would continue to arrest them.
The police said that the couple, who had already spent their first night of wedding in the police cells of Empangeni Station, will appear in court today (Monday) to apply for bail.
Video footage of the arrests showed the bride being escorted into a police van in her white wedding gown, along with the groom who was dressed in suit.
I'm pretty sure the ex is the one who phoned the police. 😭😭😂😂 pic.twitter.com/KeyF5UrodZ

— Nkanyezi (@NkanyeziKubheka) April 5, 2020
Police arrested 50 people today who were attending a wedding at eNseleni outside Richards Bay in KZN for failing to comply with the national lockdown regulations. The bride, groom, and their pastor were among those arrested. Video: supplied. pic.twitter.com/mXU9gHza9G

— EWN Reporter (@ewnreporter) April 5, 2020
#CityOfuMhlathuze More than 50 people arrested in a wedding at Nseleni outside Richards Bay today for contravening the #COVID2019 #lockdown regulations @ZOPublications @GCIS_KZN @ecr9495 @ukhozi_fm @eNCA @SAPoliceService @Sandford_Police @SALGA_Gov l pic.twitter.com/NaMagUWpUg

— uMhlathuze (@UmhlathuzeM) April 5, 2020
https://twitter.com/MadzengaOld/status/1246780123338149888