Bandits who met with a popular Islamic cleric, Sheikh Ahmad Gumi, has vowed to deal with Kaduna State Governor, Nasir El-Rufai, for refusing to negotiate with them.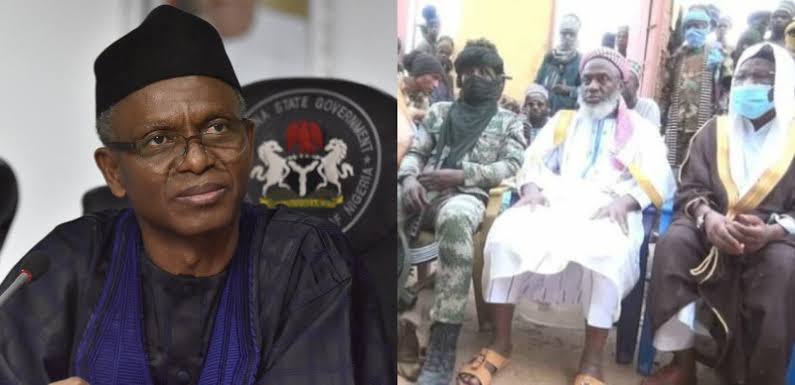 KanyiDaily recalls that El-Rufai had declared that any bandit arrested in the state would be killed, maintaining that "Kaduna State is at war with bandits".
The governor stated this while reacting to call by Sheikh Gumi that 'repentant' bandits should be granted amnesty and compensated.
El-Rufai said his administration would not negotiate with bandits, pointing out that the criminal Fulani herdsmen will never repent, considering how lucrative kidnapping had been to them.
"Anybody that thinks a Fulani man that ventured into kidnapping for ransom, and is earning millions of naira, would go back to his former life of getting N100,000 after selling a cow in a year, must be deceiving himself."
"Why should they be compensated after killing people, destroying their houses? Who offended them? Ahmad Gumi is my friend and this is what we discussed with him."

"I told him that the majority of these Fulani bandits don't believe in religion. Therefore, I don't believe in what he (Gumi) is doing that they should be forgiven and compensated."
KanyiDaily had reported that on Thursday, Sheikh Gumi met the bandits who allegedly kidnapped the Kagara secondary school students in Tagina Forest holding the gunmen.
During the meeting, the leader of the gang of bandits, Dogo Gide, reportedly told Sheikh Gumi that he will deal with El-Rufai over his statement, and nothing will happen.
According to SaharaReporters, a top source said Gide threatened that his men were ready to carry out more attacks on communities in Kaduna State.
"He told the delegation led by Sheikh Gumi that he will deal with Governor El-Rufai and nothing will happen. He also said his boys are ready to attack more towns in the state. He said he and his boys are not afraid of death and anybody against their demands will be crushed."

"Sheikh later begged him and told him that all Northern governors have agreed to meet their demands," a security operative at the meeting told SaharaReporters.
KanyiDaily recalls that yesterday, Sheikh Gumi had also asked the Federal Government to give bandits willing to make peace 'blanket amnesty'.