Not less than 20 robbers armed with machine guns, bombs, and drones have reportedly killed three people while robbing three banks in downtown Araçatuba city, Brazil.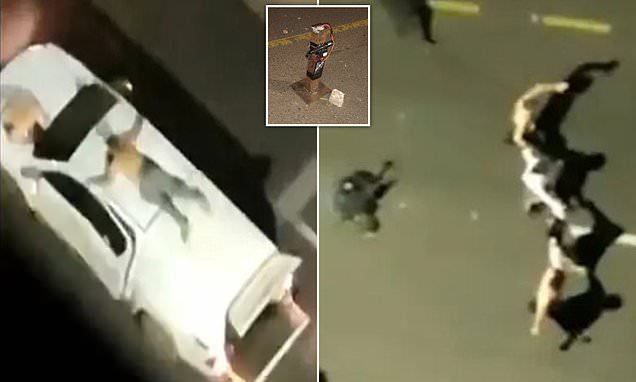 According to Daily Mail, a married father-of-two and the son of a police officer were among the three people who were killed during the series of bank robberies which starting around midnight Monday.
The armed gang was said to have attacked the local police headquarters and blocked roads into the city using burned-out cars to stop reinforcements from arriving, before kidnapping terrified locals at gunpoint.
Civilian hostages were used as human shields after being strapped to the roof and bonnet of a getaway car which was driven through the streets of Araçatuba as the armed robbers made their escape – scattering infrared proximity bombs along their route to stop police following and counterattack.
The Araçatuba Military Police said that Renato Bortolucci, 38, was one of two civilians killed by the armed gang that robbed the three banks in Araçatuba.
The 38-year-old, a married father of two girls, had left his wife behind at the gas station he owned so that he could film the suspects, but was shot dead.
Marcio Victor, also a resident of Araçatuba, was driving either a motorcycle or bicycle, when the suspects gunned him down. He worked as a physical education teacher. His father is an investigator with the Civil Police.
The third dead victim was a gang member who was killed during a shootout with cops in the Araçatuba rural town of Taveira.
Four other civilians were injured, including a 25-year-old cyclist who accidentally detonated one of the proximity bombs while riding past it. He was rushed to surgery and had both feet amputated.
A 28-year-old male was shot in the abdomen was listed in stable condition. A 31-year-old man was shot in the arms and face. He has been listed in serious condition.
The suspects also shot a 38-year-old man in the legs and arms, and had a bullet graze his head. He is in serious condition.
A 45-year-old was also shot in the buttocks and discharged from a local hospital after he was treated.
The fate of most of the hostages, including those strapped to the vehicles, is unclear. One woman who said she had been kidnapped at gunpoint later escaped by running into a nearby hotel.
Araçatuba Authorities has urged residents to remain home and school classes were cancelled as they canvassed the area for the suspects and bombs, including one that set up behind a car next to Bortolucci's SUV.
KanyiDaily had also reported how a young stripper shot her wealthy 64-years-old 'sugar day' in the face after he ended their four-year relationship and stopped funding her luxury lifestyle.