The emergence of mobile phones and mobile apps has made a huge impact on our lives. Some people really benefited from these technologies, while others were a bit negatively influenced by them.
These two technologies have changed how we interact with others and perform our daily life activities. Prior to these technologies, a task like communication with your family or friends (that we take for granted) wasn't as easy as it is now. The presence of mobile apps have communication and several other tasks so much simpler.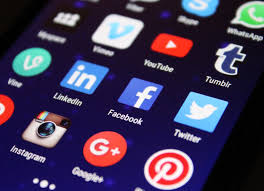 Similarly, mobile apps have also changed things for businesses. Every business wants to have a mobile app and do its marketing mostly through social media and mobile phones. Apart from these two things, you can find a mobile app for almost every category including education, gaming, entertainment, cooking, fitness, etc. This evolution of technology in the form of mobile phones and mobile apps has led to these technologies having such a huge impact on our daily life that we have become dependent on these apps for various daily life activities. Let's have a look at some of the ways in which mobile apps have impacted our daily lives.
Online Shopping
Mobile apps have completely changed the way we shop now. Online shopping has been really advantageous and we are all aware of how it has made our lives more convenient but with mobile apps, things have gotten even better. Prior to mobile apps, people used to shop through online shopping websites which weren't as convenient as mobile apps. Now, you don't need to do much, just open an online shopping app on your mobile phone and start shopping.
On a mobile app, you can get a personalized user experience and you can buy your desired products online and even make the payments remotely and get your favorite goods and items delivered to your doorstep. Even shopping for groceries has been simplified, just select the things that you want to order and have them delivered to your doorstep.
Communication Made Faster And Convenient
Just like shopping, mobile apps have also made communication so much faster and simpler in our lives. Prior to mobile apps, it wasn't as simple as sending a message to your friends on WhatsApp to communicate with them. It used to be a long and tedious process just to send someone a simple message whereas, with mobile apps, things have become very convenient. These mobile apps are available to everyone for free and to use them you just need to have a working internet connection. Communication with your friends, family members, and even clients from around the world has become so much faster and more convenient with these apps.
A Great Source Of Entertainment
Mobile apps are a great source of entertainment nowadays and in fact, mobile apps have left behind the convenient form of entertainment such as a TV that we were familiar with. Whether you are looking to play a game, watch a movie, or watch some entertaining videos, there is a mobile app available for everything. Mobile games like BGMI have become really popular and these games have lured in a huge number of people. Mobile games have even taken over the gaming industry and hold a major share of the gaming market.
Apart from mobile games, there are apps like YouTube, VLC, Netflix, etc on which you can watch various movies, and videos, and get entertained. Prior to mobile apps, getting entertained wasn't as easy as it is now, thanks to mobile phones and mobile apps. Nowadays, whenever people get bored, they take out their mobile phones and open different apps to entertain themselves without bothering anyone else.
Navigation Made Easier
Navigation has also been made easier by mobile apps. It is one of the biggest advantages of modern-day mobile phones and mobile apps. You no longer have to struggle to find the route for where you are headed or ask people about it, you just need to open the navigation app on your phone, enter your destination, and find the fastest route to your destination. Most mobile phones now come with navigation apps pre-installed and you just need to select where you are headed to get the directions.
Mobile apps have made our lives much simpler, easier, faster, and more convenient. There are no more routine struggles of dealing with daily life time. Most daily life tasks can be managed easily within a few taps, giving you ample time to handle tasks that require your time and attention.
READ: Errand360: Too busy and need someone to run your errands? Errand360 will find someone to do it.