Nigerian clergyman, Kingsley Okonkwo has countered a statement made by legendary singer, 2face Idibia, regarding infidelity.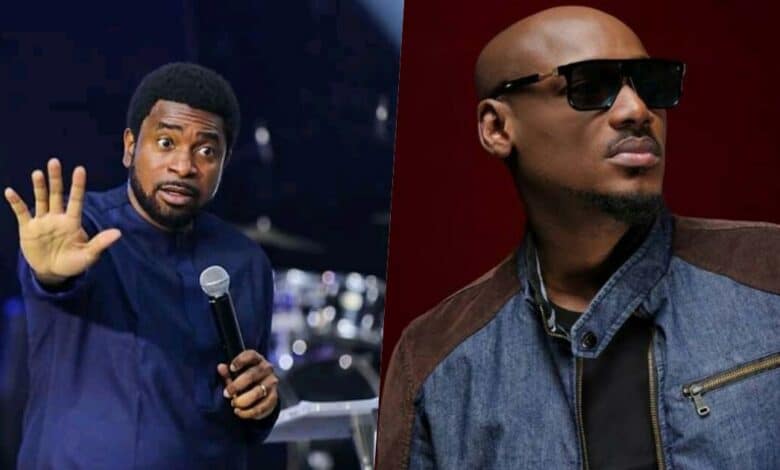 KanyiDaily recalls that 2face and his wife, Annie Ididia were featured in the new episode of the Young, Famous and African reality show which premiered a few days ago.
When the couple was asked to share their perspective on the reason for infidelity in marriages, 2face claimed that men cheat on their partners with women they don't love because their sexual desires overpower their rationality.
The singer, who made the remarks in the presence of his wife, explained that when men engage in infidelity, it doesn't necessarily imply that they desire a relationship with the women involved, they just want sexual satisfaction without emotional attachment.
2face said, "Men are wired like that. A man will love a woman to hell. Maybe he is somewhere, his d*ck would just decide to do something else. He will f*ck, but he won't even give a fuck about that person. He just wants to sort out that shit."
Reacting in a series of tweets, Kingsley Okonkwo dismissed the belief that men are inherently predisposed to infidelity, stressing that no man is wired to cheat and that people should not believe the ''lie from hell'.
The Clergyman, however, acknowledged that men may face greater sexual temptations compared to women, citing higher sex drives and sexual disposition as contributing factors.
He wrote, "NO MAN is wired to cheat, don't believe that lie from hell. However there seems to be proof that men are more prone to sexual temptation than women, OF COURSE women are tempted too.
"But clearly the sexual proclivity of men is VERY different from women here are some reasons.
"#1 Men have a higher sex drive than women, men have a higher dose of testosterone which is the sex hormone.
"#2 Men are capable of enjoying sex without any emotional connection, hence why prostitution is mainly men funded.
"#3 Men are visually stimulated, so just being a man in today's world is an automatic temptation because your view is attacked daily.
"However all this is NEVER an excuse to cheat and hurt someone you claim you love, SELF CONTROL by God's grace is how to go. Prov 25:28 MSG – A person without self-control is like a house with its doors and windows knocked out."
However there seems to be proof that men are more prone to sexual temptation than women, OF COURSE women are tempted too

— kingsley okonkwo (@kingsleypst) May 20, 2023
KanyiDaily recalls that actress Anita Joseph implied that 2face was indirectly conveying to his wife, Annie Idibia, that he has no intention of ending his infidelity.