Nigerian singer, Yemi Alade has lambasted a lady who pointed out a flaw in her outfit after she shared a photo on social media.
Taking to her Twitter page, Yemi Alade shared a photo of herself while exclaiming her amazing qualities and likening herself to an angel.
"I'm Amazing, Extremely talented, kind and extraordinary .you would mistake me for an angel," she captioned her post.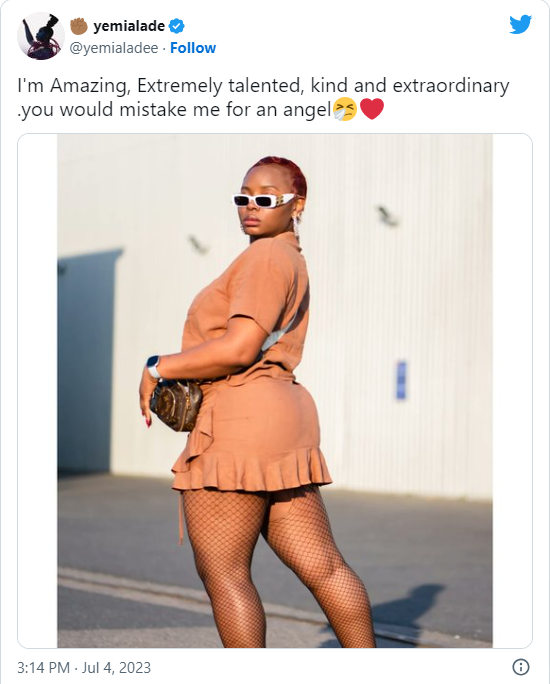 However, a lady named Darasimi closely examined the photo and highlighted a tear in Yemi Alade's stockings, questioning whether others had noticed it as well.
Yemi Alade wasted no time in addressing the tweet, criticizing the user for taking the time to zoom in on the photo, which had only been posted three minutes prior.
The singer also suggested that if the lady had directed the same level of attention to the details of her own life, she might have found herself in a better position.
She wrote, "This pic was posted 3mins ago and that was enough time for you to zoom and tweet your ignorance. Imagine if you paid attention to the details of your life in this manner you would be in a better place by now.  It's open on both thighs since that area is your business too."
KanyiDaily recalls that Yemi Alade was recently seen in a video having fun with Congolese music legend, Awilo Longomba after she paid him a surprise visit at home.