Brice Oligui Nguema, the leader of Gabon's military junta, has been sworn in as the country's interim president.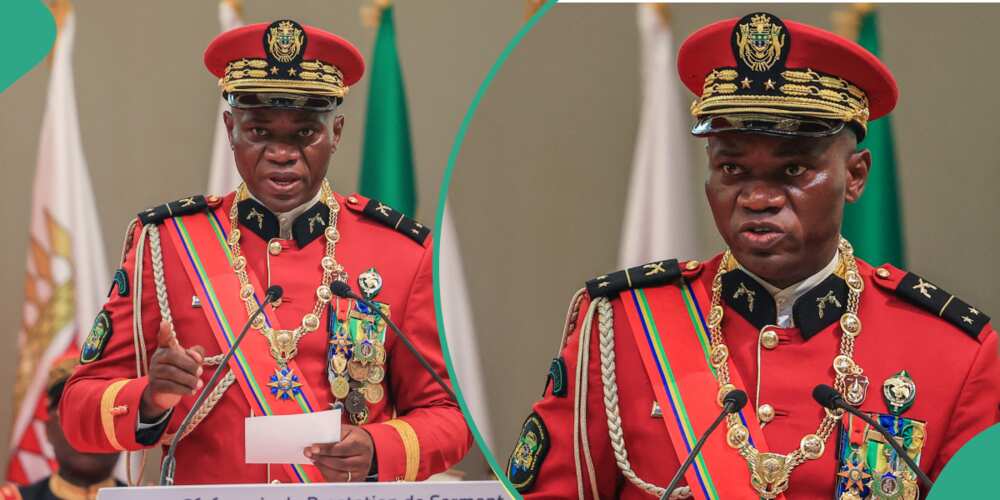 In his inaugural speech on Monday, September 4, Brice Ngueme pledged to return power to civilians through "free, transparent" elections, although he did not specify a timeline for the end of military rule.
During his address, Nguema referenced figures like South African Archbishop Desmond Tutu, French statesman Charles de Gaulle, and former Ghanaian leader Jerry Rawlings.
He emphasized that this transition would serve as a lesson to be taught in Gabon's schools.
Nguema also announced plans to form a new government in the coming days, along with proposals for new electoral legislation, a revised penal code, and a constitutional referendum.
He expressed his intent to promptly address the release of political prisoners.
The swearing-in ceremony was broadcast live on Gabonese TV and online platforms.
Former ministers from the ousted government attended but faced disapproval from a crowd of junta supporters.
KanyiDaily recalls that Brice Nguema's rise to power occurred when he led a group of soldiers in seizing control from President Ali Bongo following a contentious election.
The opposition has welcomed Bongo's removal but urges a swift return to civilian governance.
The coup leaders initially closed Gabon's borders but later reopened them to maintain international relations and uphold the rule of law.
Nguema's leadership has raised concerns about the continuation of the Bongo family's 53-year hold on power. Bongo became president when Omar, his father, died after ruling from 1967 to 2009.
While enjoying some public support, Nguema's ties to the Bongo family have led to suspicions of a "family affair" designed to perpetuate their control.
Nguema, who was reported to be Bongo's cousin, has also faced accusations of corruption, with reports of significant real estate investments in the United States.
"Oligui Nguema is Ali Bongo's cousin. The campaign was 60 years of Bongo is too much. The Bongos have decided to put Ali Bongo aside and continue their system by putting in place a Bongo CEO system," said Albert Ossa, the leader of the country's opposition.
While the opposition praised the army for opposing an "electoral coup," it now calls for completion of ballot counting and the installation of Albert Ondo Ossa as the "rightful winner."
The junta has not mentioned a return to civilian rule at this time.
KanyiDaily recalls that Nigeria's President, Bola Tinubu, who is also the ECOWAS Chairman, had expressed concern over the military coup in Gabon.