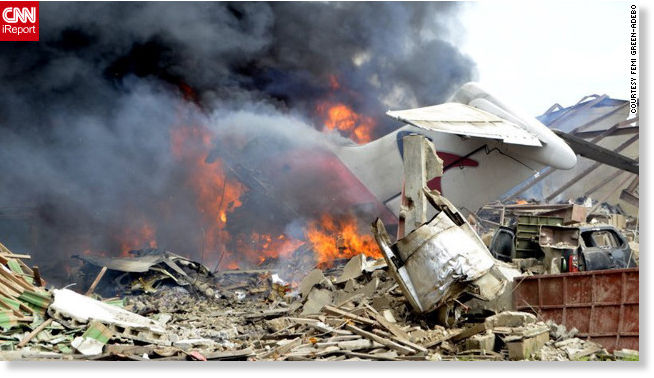 DANA Air insists the aircraft which crashed and
killed 153 persons on Sunday was in perfect condition
The
Director of Flight Operations, DANA Air, Oscar Wilson, has said that the
McDonnell Douglas (MD83) aircraft that crashed at Iju-Ishaga, Lagos, on Sunday
was "serviceable and operational".
Mr. Wilson, who disclosed this at a news conference at the Murtala Muhammed
International Airport, Lagos, on
Monday said that in spite of being 22 years old, the aircraft was still
functional.
He explained that the aircraft was in a good
condition before leaving Abuja for Lagos on Sunday.
"The aircraft had flown to Ibadan on Saturday
without hitches contrary to rumours that it was undergoing repairs. On Sunday,
it was a different story entirely as the aircraft had started operations as
early as 7.47 a.m.
"On Sunday, 5N-RAM flew at 7.47 a.m., left Lagos
to Abuja on flight 999 and Abuja
back to Lagos on Flight 998. The aircraft went back to
Abuja flight 993 and was coming back before the fatal flight
992……hmmmm on its 4th flight of the day, when it crashed, and the also failed to include it had landing problems at Uyo three weeks ago….God is watching everybody, continue reading!
"We don't allow our aircraft to fly if not in
perfect condition. We don't take risks with people's lives. I did the test
flight of the questioned aircraft myself, there was nothing wrong with the aircraft, it was okay," he
said.
Mr. Wilson said that
the management of the airline
would do its best to assist the authorities to unravel the cause of the
crash.
He denied rumours that the
airline had been sanctioned by the Nigerian Civil
Aviation Authority (NCAA), adding that it would be inhuman if its planes started
flying immediately.
"Immediately after the crash, we suspended all
operations and cancelled the remaining flights. At least we needed to put human
feelings for the lost souls.
"If we do not stop operations, that means we have
no respect for the lost souls and for Nigerians," he said.
Tony Usidamen, the Communication Manager, also
defended the airline.
"We are hearing rumours of a sanction because our
aircraft are faulty but that is not true, we did this to honour the victims of
the flight".
The Managing Director of the
airline, Jacky Hathiramani, in an earlier statement,
expressed his sympathies to the
families and friends of the deceased.
"The Dana Air family is deeply saddened by the
tragic loss of the passengers and crew of flight 9J-922 of Sunday June 3,
2012.
"The aircraft, with registration number 5N-RAM, departed Abuja for Lagos with 146
passengers on board. It has one Dana Air Flight Engineer, two pilots and four
cabin crews were also on the flight.
"We extend our deepest sympathies to
the families and friends of the deceased and we are
doing everything to assist them in this extremely difficult time," he
said.