Oscar Pistorius has just been sentenced to five years in prison for the death of Reeva Steenkamp, as his seven month trial finally came to an end.
Judge Thokozile Masipa, issuing the ruling in court in Pretoria, also gave Pistorius a three-year suspended sentence for a firearms charge. Pistorius has been taken to the prison cell.
The defence says it expects him to need to serve one-sixth of the sentence – 10 months – before being considered for release to house arrest.

Judge Masipa began reading the sentence by saying that, although she had been aided by assessors, the decision was hers and hers alone.
She said: "Sentencing is about achieving the right balance. Sentencing is not a perfect exercise."
She said there must be a balance between retribution, deterrence and rehabilitation. The judge then summarised the evidence brought before the trial.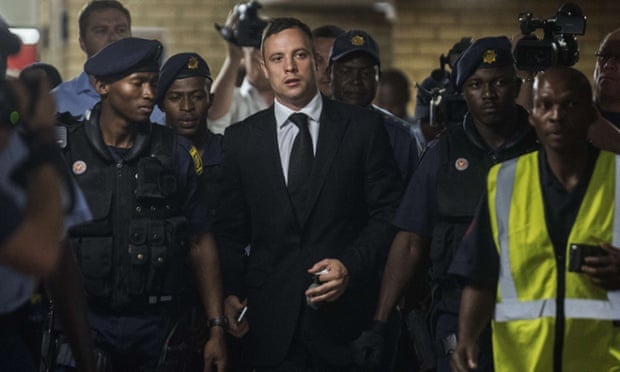 She described the evidence of defence witness and social worker Annette Vergeer as "slapdash and disappointing".
Ms Vergeer had argued Pistorius would be "a lot more vulnerable than the normal man" in jail.
But Judge Masipa said she was sure prisons were equipped to cater for the requirements of a special needs inmate.
She also said she had a "feeling of unease" at what she called an overemphasis on the athlete's vulnerability.
However, she said Pistorius had made an "enormous contribution to society", in his charity work and in changing the public perception of disability.
The judge then read out a quote from previous legal opinion, saying that if sentences were too lenient, the administration of justice may fall into disrepute.