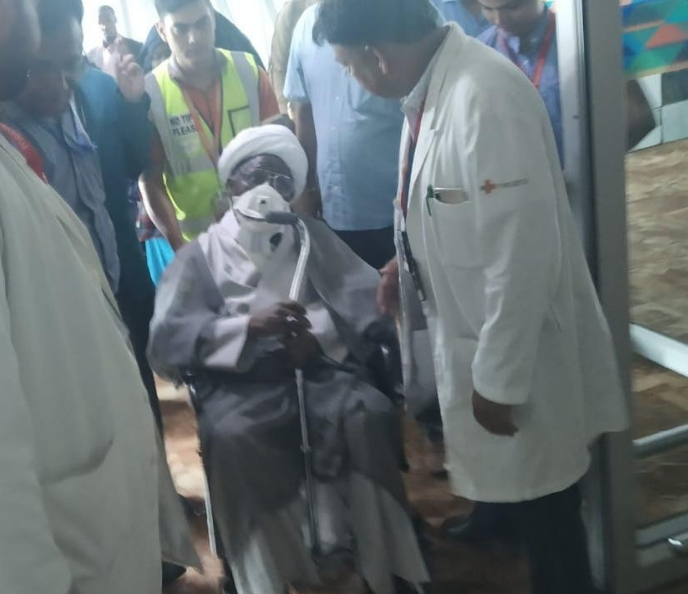 The Indian Government has reportedly issued an ultimatum to the leader of the Islamic Movement of Nigeria (IMN) Sheikh Ibrahim El-Zakzaky, as he has refused to submit himself for treatment from a team of Indian doctors where he had gone to receive treatment.
The Shiite leader, who refused treatment from those he called 'unknown doctors', is insisting that he wants to be treated by those booked to treat him before he and his wife left from Nigeria.
According to him, the Federal Government of Nigeria and the Indian government connived to change his doctors.
The secretary of the academic forum of IMN, Abdullahi Musa, said El-Zakzaky may return to Nigeria over the change in his medical arrangement with doctors in India.
"The federal government has connived with the Indian government to scuttle the treatment. They brought a new set of doctors instead of the ones the Sheikh (El-Zakzaky) made prior arrangements with," he said.

"So the Sheikh smelled a rat and refused to submit himself to the doctors to treat him. He asked them why they prevented him from seeing the doctors he had earlier made arrangements with? So he said he will not allow them to treat him."
A member of the Islamic Human Rights Commission (IHRC) disclosed that the Indian government has given El-Zakzaky deadline to leave if he refuses to receive treatment from doctors available to treat him who had been cleared by their government.
The IHRC member lamented that the attitude of Indian government saying the country was acting as thought El-Zakzaky was a common criminal even when no court in Nigeria had convicted him.
"I just received a very worrying news from the Indian government that ultimatum has been given to the Leader of the Islamic Movement of Nigeria to leave India if he does not agree to the Doctors specified to treat him.

"From the way this is going, he is being treated extremely bad", the IHRC representative said.

"Under the current situation, it seems he has no choice other than to go back to Nigeria. He has been given some hours to respond to their ultimatum.

"This is to me is totally, utterly unacceptable by any standard, either international standards or Indian standards or that of humanity", the IHRC top official said.
He further noted that "This is a man that has not been found guilty of anything to the extent that in his own country, the highest court has granted him permission that he should be treated.
"The Indian government by their behaviour depicts Sheikh El-Zakzaky as a criminal. This is really outrageous and those who stand for justice should please respond."