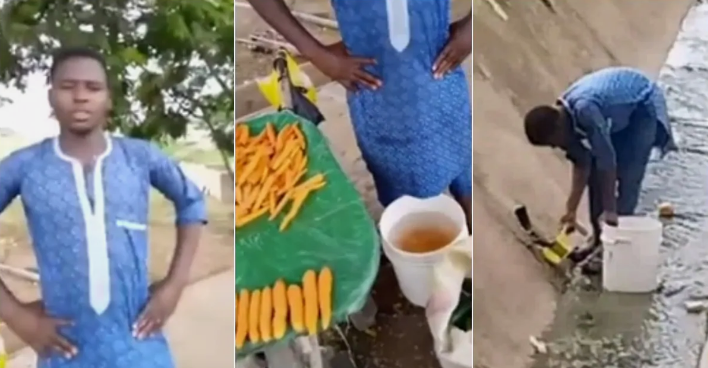 A fruit vendor has sparked outrage among Nigerians after he was caught on camera washing his carrots in a dirty gutter.
The irritating and disgusting act was recorded by an unidentified man who considered the fact that the water source was certainly from people's urine and all sort of dirt.
The video shows the fruit vendor fetching water from a hole inside the gutter. He took the bucket of gutter water back to his stand and used the water on his carrots.
The Nigerian man, who recorded him, approached him to question what he did, while pretending to be interested in buying carrots. Later he asked if he used the bucket water to wash the carrots and walked away.
Watch the video below:
Meanwhile, there was confusion among Nigerians on social media as a severely malnourished naked woman, who was reportedly thrown out of a moving car, was seen roaming the street of Ajah in Lagos State.
According to reports, the severely malnourished naked woman was thrown out of a moving car around Jubilee Bridge in Ajah
Some eyewitnesses said the woman wasn't looking this 'much' emaciated when she was dropped. She allegedly "dried up in a few minutes" after getting dropped by the car which they claimed is owned by ritualists.