The new 25 foot-tall bronze statue unveiled in New York City's Rockefeller Center to honor "African culture" has sparked outrage on the social media.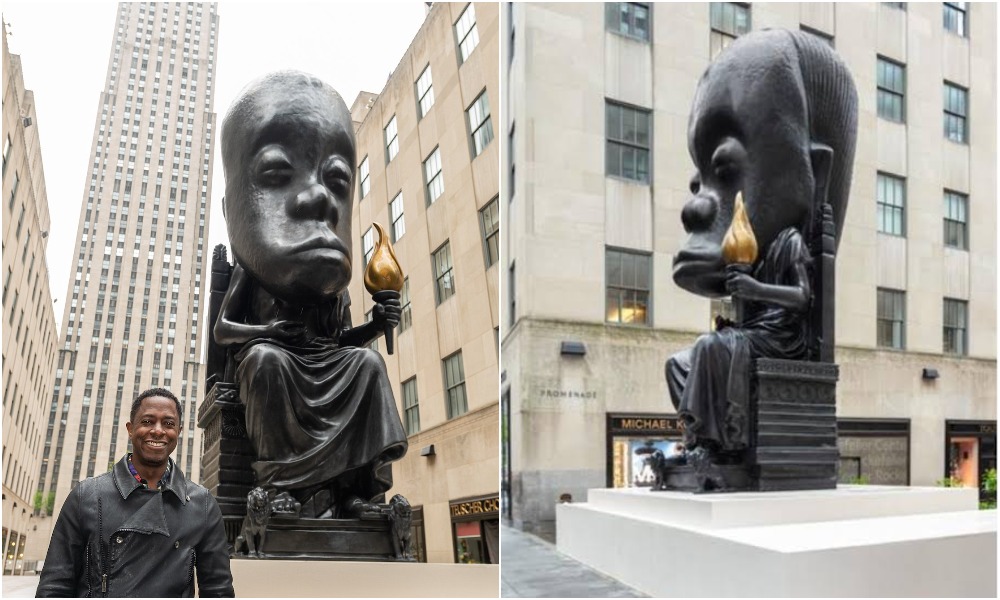 The monumental bronze sculpture that is standing 25 feet tall and weighing in at over 15,000 pounds was designed by a Harlem-based artist, Sanford Biggers.
The statue named 'Oracle' is the latest in the Biggers's "Chimera" sculpture series, which merges African masks and European figures.
The seated body is inspired by the ancient Temple of Zeus, while the head is based on masks and other sculptures from various African cultures, including Luba art and the Maasai religion.
On the Oracle throne, there is the image of a lotus blossom, a recurring motif in the artist's work where each of the petals is actually the cross-section of a slave ship.
The lotus also appears in photographic works Biggers has throughout the complex, which feature details from works in his "Codex" series, paintings and sculptures made from antique African American quilts featured in his recent exhibition at the Bronx Museum.
Artnet News reports that in the coming weeks, Oracle will also begin to live up to its name with the launch of an interactive component allowing viewers to consult the sculpture about their future after activating a QR code.
Through June 29, the sculpture will be voiced by "various celebrities," according to Biggers, although he declined to name names.
Visitors will be able to ask the oracle anything they want, and if the oracle is "in," they'll get a live response from the day's celebrity.
"They'll respond as an oracle would," Biggers said, "in mysterious, poetic vagaries which will hopefully be, if not helpful, at least mystifying."
— Breaking911 (@Breaking911) May 11, 2021
The 25-foot-tall bronze sculpture which was unveiled on Wednesday to honor African culture has sparked outrage among social media users.
See some reactions on Twitter below:
What kind of ugly kini is this, how is this supposed to ever honour African culture? The should better take that black looking shigidi and throw inside ocean

— Phummie Pearl Ayd (@Phummie_lohlar) May 12, 2021
A lot of people are (understandably) laughing at the 'African Culture' statue but I want to clear up the question on what the head is big.

Take note that these are examples from different artist, different areas, different eras but the exaggeration in proportions is NOT uncommon

— 🦑Mama Squid Something Something 🦑 (@RainbowSquidInk) May 12, 2021
can't even find the chimera series on his website. but yeah, i totally agree – esp. the way its being presented as an ode to "african culture" whatever the fuck that is🤷🏾

— colonized_subject_22794 (@me_myself_ey3) May 12, 2021
I tell you. Someone had a horrific dream woke up sketch his demons and said yes that's African culture

— Sadiq (@smbarau) May 12, 2021
But omo men. Wetin be this? The thing just they vex me. African what? What culture? African is a full blown continent. Even one country among the 54 don't even have one culture. What is African culture? Man again just say black American culture.

— Poldi 🇳🇬 (@_Da_Poldi) May 12, 2021
From what I've seen most people are upset it "representing African culture" when there are THOUSANDS of African cultures, and this is just a very westernized stereotypical "African Culture"
I think if they wanted to represent the cultures they could have done it much better

— Violet (@VioletZoroark) May 12, 2021
I'm even more disturbed they've just lumped it up as "African culture", like Africa is a damn country.

— ✊🏼🍁Liz🍁✊🏼 🖤STONE OCEAN💚 (@LiZOOOOOO1) May 12, 2021
Statue be looking malnourished. Maybe malnourishment is the African culture.

— I identify as Odogwu (@Dencety) May 12, 2021
They should flog both the artist and the statue.

Which African culture is this?

This is quite an ignorant art.

— Tilda (@ChikereMatilda1) May 12, 2021
Wtf is in that statue which shows african culture

— Njuzu Hunter🇦🇪🇿🇼 (@_The_Hunter47) May 12, 2021
Unless there's an explanation, this is a mockery of the beautiful African culture, just like the old derogatory terms that was given to the African traditional religion

— Moses of Finosell (@mosesadeyinka_) May 12, 2021
Ungade uthi this is "African culture", that time you're homogenising an entire continent.

— Noxolo Ntaka (@ntaka_noxolo) May 12, 2021
This people no rate us at all, there no such thing as a general "African culture" but different ethnic nationality spread across the whole continent with their different distinct way of life…. Maybe some form of politics is involved but that's another story for another day…

— Iziben (@Ezzybizzle) May 12, 2021
Crazy people
They now tagged it "African Culture". They seem to forget that Africa is a continent on its own with lots of countries under it and this countries have lots of cultures under them. I don't see how this represents South African or Libyw culture🤷🤷🤷
This is just a

— Daniel Chukwuma (@ThatFatDanny) May 12, 2021
Africa is to diverse to be called "African Culture"

When I find the person who made this MoNumENt…

Thunder fire them!

— Sika68🔥🇬🇭🇬🇧🔥 (@Lilly6812) May 12, 2021
I want to know if the artist himself said that this was a representation of "African culture" or was this a poorly worded tweet?

— AXRB 💞 (@axrb9) May 12, 2021
The monument on the left captures the energy and glory of Man. The monument on the right is an icon of demoralization; an image American progressives want in the public consciousness to represent the words 'African Culture'. https://t.co/AEf5ioIHEX

— Philosophy Wins (@philosophy_wins) May 12, 2021
"This" was unveiled in Rockefeller Center in NYC to honor African culture. 😶

Bizarre. pic.twitter.com/xCeMhkzILp

— suzy (@Suzy_1776) May 12, 2021
The new statue the put up to honor African culture in Rockefeller Center is hideous. Comparing it to the Atlas statue is comical pic.twitter.com/2Gv1avfanA

— Aleph (@woke8yearold) May 12, 2021
I would say that it perhaps represents or references some traditional West African masks, which would make sense because African-American ancestors are mostly from around there. But yes, not "African culture" in general, for sure.

— Tidy Roger (@RogerTidy) May 12, 2021
Is there an African culture? Because I'm African but I'm not aware of that! My culture is very different from the closest clan's culture. Ethnic groups within a geographical area speak different languages, you know like English and Spanish kinda thing. So wtf is African culture?

— Ojemba Enwilo (@chikwado_) May 12, 2021
There's no such thing called "African culture". Africa is a continent with 55 countries, to each their own culture 🤦🏽‍♂️

— Baroudi (@gunpowder90) May 11, 2021
"African culture," really? Africa is a continent with 54 countries, >2000 languages, > 3000 ethnic groups spread across diverse, dynamic cultures. Ever wondered why South Africa alone is called the "Rainbow Nation?" Africa & it's people is not a monolith. Whoever advised this?🤦🏽‍♂️

— Bright Alozie (@bryt_alozy) May 12, 2021
ALSO READ: Why Do Women Wear Waist Beads?: Five Reasons Why Every Woman Should Wear Waist Beads