Nollywood actor, Jim Iyke was caught on camera assaulting his colleague, Uche Maduagwu, for questioning his lifestyle and source of wealth.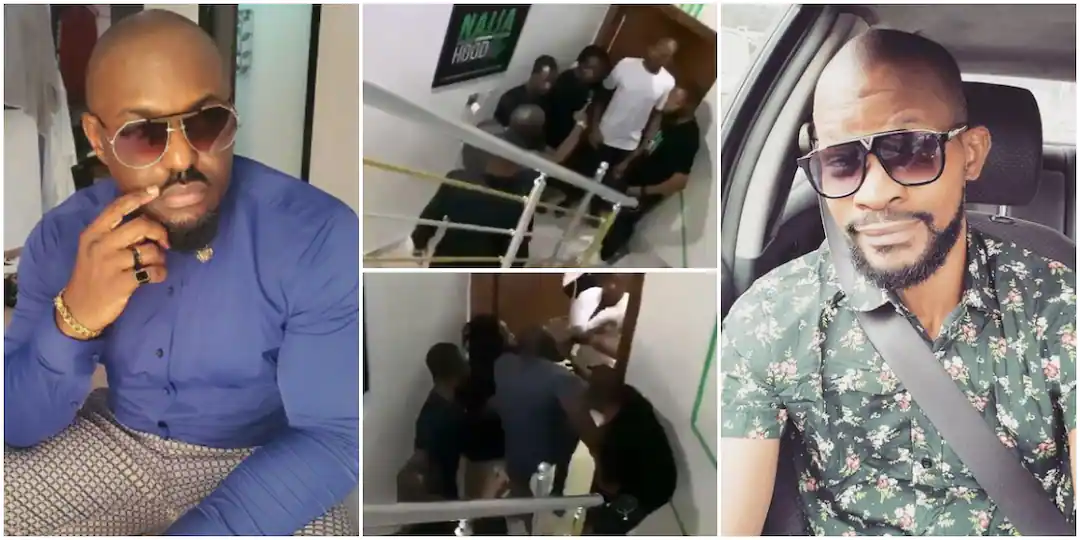 The assault comes a few days after Maduagwu shared a video on his social media page where had likened Jim Iyke to a suspected fraudster, Hushpuppi, claiming they were spending illegally gotten wealth.
In the video, Uche Maduagwu accused Jim Iyke of being a fraudster and ritualist, saying he was hoping for the day the EFCC would apprehend his colleague and question his lifestyle and source of wealth.
Uche Maduagwu Calls Jim Iyke Fraudster, Ritualist
Uche Maduagu Questions Jim Ikye's Source Of Wealth
In another post shared on his Instagram page, Maduagwu once again called out Jim Iyke on grounds that he lives an expensive lifestyle in Lagos, adding that he heard the fellow actor doesn't buy expensive clothes in Nigeria but has them imported from abroad.
"Please, nobody should beg me on this matter because I have already made up my mind on this issue. Is Jim Iyke the only one in Nollywood?

"Look at the expensive lifestyle e dey live up and down in Lagos and Abuja. Someone told me e no dey buy expensive clothes from Naija again, e now import the most expensive ones abroad. Please, what is his source of wealth again?

"Any day we meet or see, I go use my Abuja connection to beg EFCC boss to invite am, we never recover from what Hushpuppi do us, now this one is changing expensive cars up and down like Hushpuppi of the movie industry.

"Even if dem pay me ten million naira to enter movie location with am, if e no tell us his source of wealth I go refuse," Maduagwu wrote.
Jim Iyke Beats Up Uche Maduagwu In Viral Video
In a viral video released on social media on Tuesday, Jim Iyke was seen confronting Maduagwu to the point that he started assaulting the latter both met at an undisclosed location.
Jim Iyke, who was held back by several people to stop him from fighting Maduagwu In the video, can be heard saying "You think I won't find you!"
Maduagwu, however, responded: "How did you know I was here? EFCC is looking for you."
After more exchanges of words, Jim Iyke flew at him with a kick and wallop that had Uche Maduagwu reeling backward into a door that burst open.
"I will sue you!" Maduagwu started yelling from beyond the door.
Still fuming, Jim Iyke floored two men that were restraining him and went through the door as could be seen in the trending video.
Watch Jim Ikye Assaults Uche Maduagwu:
KanyiDaily recalls that Jim Iyke had recently revealed why he dumped the Nigerian politics saying "it was almost like selling your soul".