22-year-old lady, Miss Oluwabamise Ayanwole, who was declared missing after boarding a Lagos Bus Rapid Transit vehicle, has been found dead at Lagos Island.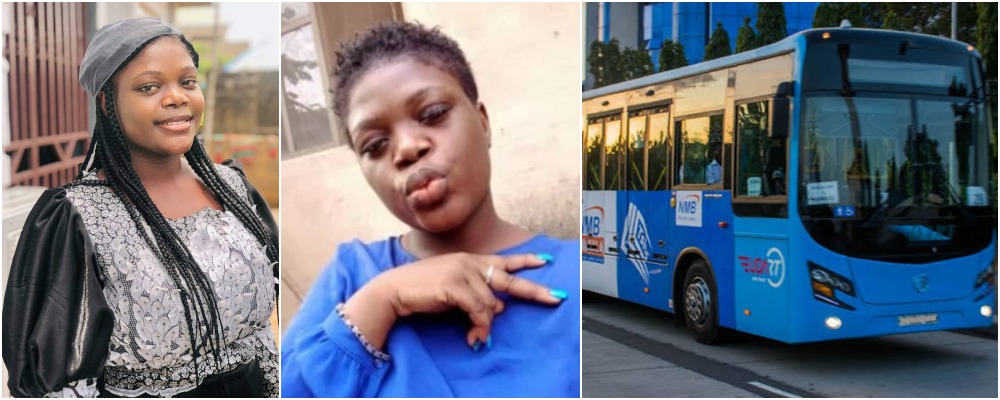 Bamise Ayanwole Declared Missing
It was gathered that the young lady got missing after she boarded a BRT bus with number 240257 from Chevron Estate in Ajah, which was going to Oshodi at about 7 p.m on Saturday, February 26.
The victim, who worked as a Fashion Designer at Chevron Estate in Ajah, was on her way to visit her brother, Pelumi, after spending the weekends with her sister at Ota, Ogun State.
The busman, Nice Omininikoron, was said to be conveying Oluwabamise to a destination in Oshodi when she observed that he refused to pick other passengers on the road.
Bamise reportedly contacted one of her colleagues at work, Felicia Omolara, to inform her about her suspicion and she was advised to alight at Oworonsoki bus stop — before Oshodi bus stop.
The victim had also told Omolara to pray for her as she sent a video to her friend showing how dark it was in the bus and said, "There are three men and one woman in the bus. The woman is sitting at the back. That's the number of the bus in case. Please pray for me.''
Omolara, however, noted that when her friend no longer responded to her chats on WhatsApp, she called her phone number, adding that when she picked the call, a man was heard arguing with Bamise.
The aggrieved friend said that was the last time she heard from Bamise, who was the last born of the family, adding that she immediately informed members of her family.
Bamise's 72-two-year-old mather, Comfort Ayanwola had called on Lagos State Governor, Babajide Sanwo-Olu, to intervene in the matter to help locate her daughter.
Oluwabamise Ayanwole Found Dead
It was gathered that the young lady's body was recovered by the policemen attached to Ebute Ero Police Station and has been deposited at the mortuary within the axis.
According to Punch, Bamise's body was dropped on Lagos Island by a BRT vehicle and a jeep. Upon sighting the corpse by the roadside, an unknown man reportedly informed officials of Ebute Ero Police Station on Saturday evening.
The corpse was later taken to the Mainland Hospital mortuary.
One of Ayanwole's relatives, who confirmed the development in an emotional-laden voice on Monday, said: "We are at the morgue. We have confirmed the corpse, "An autopsy will be carried out to confirm if any part of her body is missing."
Meanwhile, Police in Lagos and the Lagos Bus Rapid Transit are still searching for a BRT driver in whose bus a 22-year-old lady was allegedly kidnapped.
KanyiDaily had also reported how a young makeup artist identified as Ijeoma Nweke was found dead after being booked for a job by an unknown person in Enugu State.