A young makeup artist identified as Ijeoma Nweke has been found dead after being booked for a job by an unknown person in Enugu State.
It was gathered that Ijeoma Nneke, who goes by the Instagram handle @wake_n_makeup, was last seen on Wednesday after she left home for an outside job.
Accoprding to reports, the makeup artist had requested for the address for the job, but the prospective client asked her to come to ESBS bus stop so that she will be taken to the place.
After the client picked her up and was taking her to the venue, she reportedly sensed something was amiss and texted the client's number to her brother.
Read the full story below as seen on Facebook:
"This is ijeoma Nweke, a makeup artist who resides in Enugu. She was last seen on Wednesday 11th November 2020 in Enugu. Information gathered showed that Miss Ijeoma was booked for a makeup business in an undisclosed location.

"According to her friend who spoke with us, she demanded for the address for the occasion but the customer asked her to come to ESBS busstop [a popular bustop in Enugu] so that she will be taken to the place"

"On their way, she suspected some unusual movement and contacted her brother via text message [she sent her brother the phone number of the person who called her for the job] incase.
"As at Sunday November, 15 2020 – 9pm Nigerian time, no one have heard from her. Her phone number and the phone number of the person who picked her up for the job have been switched off."

"It was also gathered that an attempt was made by her people to make a police report but it was unsuccessful."

"The next news they got was of a corpse seen at Maryland Enugu and it happened to be her.
#PLEASE let's desist from outside work, home delivery or home services now. #The heart of man is WICKED"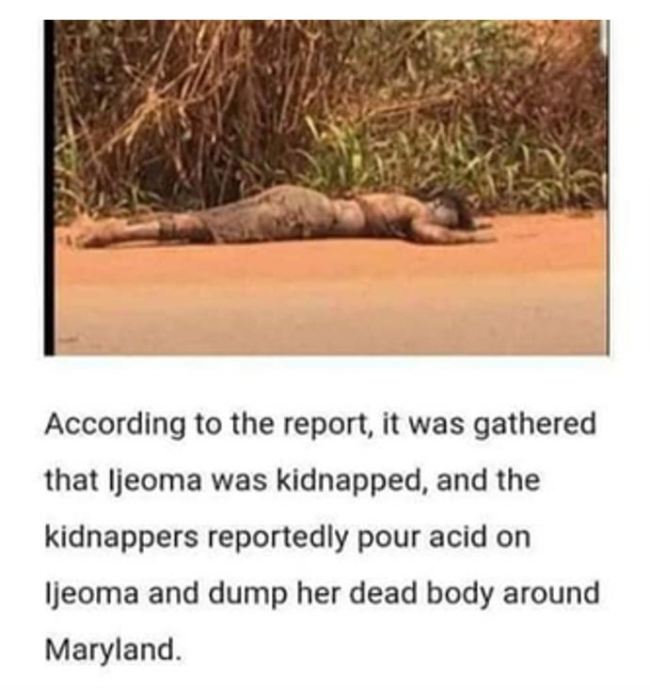 Ijeoma's friends are demanding answers and have called the Enugu State Police and the State Governor, Ifeanyi Ugwuanyi, to investigate the death.
KanyiDaily had reported how a 19-year-old Nigerian protester, Oluwatoyin 'Toyin' Salau, was found dead days after tweeting that a man who offered her a ride to church had molested her in Florida, United States.