Aisha Buhari, the wife of President Muhammadu Buhari, has asked Nigerians to forgive her husband if he hasn't met their expectations after seven years.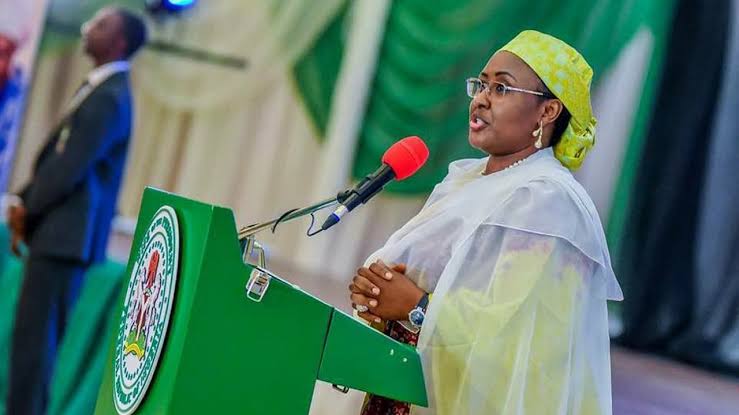 Aisha Apologize To Nigerians
In an interview with BBC on Friday, Aisha said that due to many expectations Nigerians have of President Buhari-led administration, she is not sure if the government has met them.
The first lady apologised to Nigerians about the hardships they are facing, adding that the current government has done its best.
"The expectations on us were too high. People expected so much from us and maybe after seven years we have not done to their expectations," she said in Pidgin English.
"Only God knows what is in somebody's mind, as human beings, you can't just say you are right or we have done what you should do. So, the government, the administration, they have really tried, they have done their best but maybe still not the best to others.
"To them, they have done their best, so, we must apologise to Nigerians whether we have met up with their expectations or not."
While commenting on her areas of focus as the First Lady, Aisha said she is not into government activities but supports the administration through health and education.
Speaking on the 2023 elections, Aisha said the ruling All Progressives Congress (APC)  will emerge victorious.
She said, "I thank God for giving me the opportunity to be the First Lady of Nigeria and I think that position is such a priceless position. I pray to God to grant us good exiting and we will hand over to APC government again.
"I don't have any political ambition because after that I am going to be the former First Lady of Nigeria, what else am I looking for?"
She advised the next First Lady of Nigeria to be herself and not "allow anybody to mortgage their administration".
"They have to listen to the people that voted for them, they must listen to people and she must be herself under any circumstance. She shouldn't allow people to define her, she should try and define herself," she added.
ALSO READ: First Lady Aisha Buhari Finally Returns To Nigeria, Reveals Why She Stayed So Long Abroad