Turkey President, Recep Tayyip Erdogan has declared a three-month state of emergency in southern areas of his country that were hit by two earthquakes.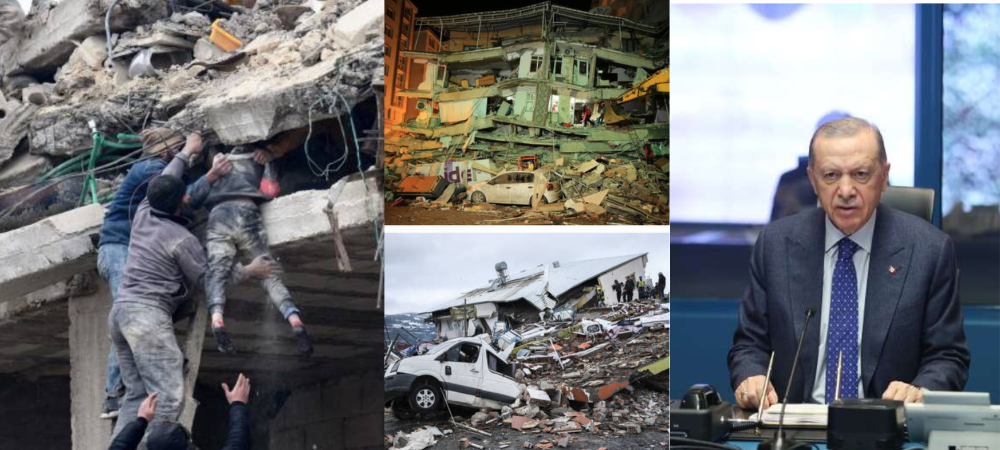 KanyiDaily had reported how two powerful earthquakes of 7.8-magnitude and 7.5-magnitude struck in southern Turkey, close to the Syrian border, in the early hours of Monday while people were asleep.
The death toll across the two countries reached 5,102 on Tuesday, with rescue operations under way across the region as many buildings have collapsed and there are thought to be many people trapped in the rubble.
Erdogan, who declared seven days of mourning for the dead on Tuesday, said that the death toll from the earthquakes in Turkey had risen to 3,549.
Orhan Tatar, an official with Turkey's Disaster and Emergency Management Authority (AFAD), said that 20,426 others were injured, while more than 5,700 buildings had also been destroyed.
In Syria, at least 1,602 people were killed and about 3,500 others were injured, according to the Ministry of Health and the White Helmets rescue organisation.
In a speech on Tuesday, Erdogan declared the 10 Turkish provinces affected as a disaster zone and imposed a state of emergency in the region for three months.
This will permit the president and cabinet to bypass parliament in enacting new laws and to limit or suspend rights and freedoms.
"We have decided to declare a state of emergency to ensure that our (rescue and recovery) work can be carried out quickly," Erdogan said in televised remarks.
"The government planned to open up hotels in the tourism hub of Antalya, to the west, to temporarily house people impacted by the quakes," said Erdogan, who faces a national election in three months' time.
KanyiDaily had also reported how a former Chelsea player, Christian Atsu was pulled out alive from the rubble of the earthquake that struck Turkey and Syria.