Ekweremadu: What A Northern Nigerian Muslim Donor Would Have Done – Reno Omokri
Former presidential aide, Reno Omokri has revealed what a Northern Nigerian Muslim donor would have done in the case of former Deputy Senate President, Ike Ekweremadu.
KanyiDaily recalls that yesterday May 5, a United Kingdom court sentenced Ike Ekweremadu to nine years and eight months in prison for organ trafficking.
The court also sentenced his wife, Beatrice, to four years six months while the medical doctor who acted as a 'middleman' in the plot, Dr Obinna Obeta, was sentenced to 10 years and his medical license was also suspended.
In March 2023, the jury found the convicts guilty of criminal conspiracy to bring a 21-year-old Lagos street trader to London to exploit him for his kidney.
The young man was said to have been falsely presented as the cousin of Ekweremadu's daughter, Sonia, in a failed bid to persuade doctors to carry out an £80,000 private procedure at the Royal Free Hospital in London.
The man was said to have been offered an illegal reward to become a donor for Sonia after kidney disease forced her to drop out of a master's degree in film at Newcastle University.
Reacting to the sentencing of Ekweremadu, his wife, and their doctor, Reno Omokri expressed his sympathy for the senator's family while expressing opposition to their course of action.
He argued that if a Northern Nigerian Muslim was brought into London to save someone's life, the donor would have reported their disagreement to the mosque rather than the police station.
He wrote, ''If a Northern Nigerian Muslim had been brought to London by a desperate Northern Nigerian Muslim seeking to save his daughter's life, and the intended donor changed his mind, he would most likely have headed over to the nearest mosque, rather than the nearest police station. Even in disagreement, my experience in Northern Nigeria taught me that they would rather use Islam for resolution than use other means.
"And that is one thing I will forever admire about Northern Nigerian Muslims. The fact that they tend to cover their own in good and bad times. No matter what the world says about their own, they will cuddle him or her publicly, and any rebuke would be done in private. That lifestyle builds unity, and unity brings power!
"I do not support what Ike Ekweremadu and his wife did. But I empathise with them. May God never permit me to be in the same position. I do not know what I would do in such circumstances. May the Almighty provide relief to the Ekweremadus. In Yeshua's Name."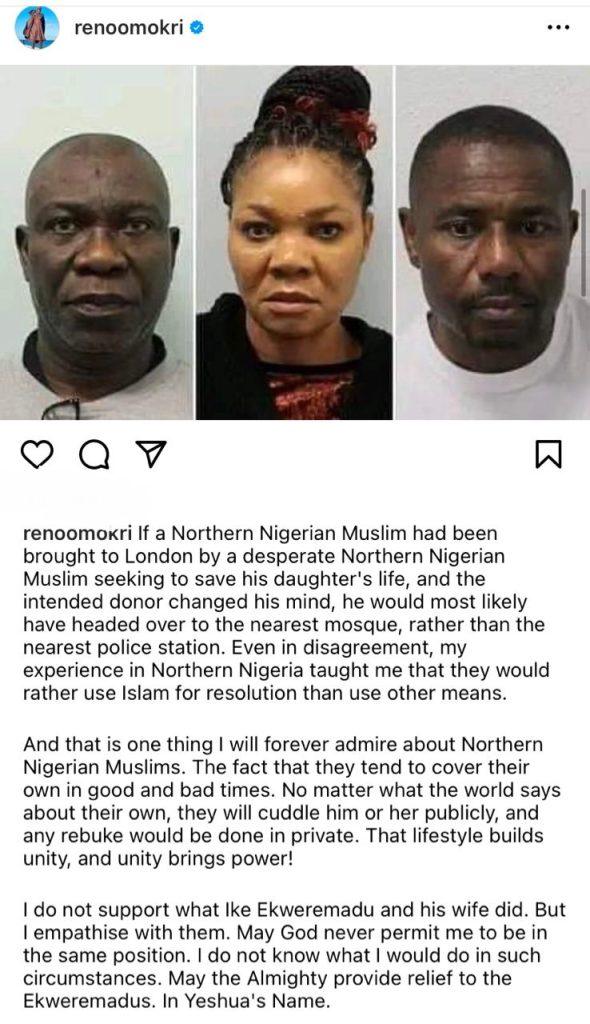 Meanwhile, Nigerians on Twitter have reacted to Ike Ekweremadu's jail sentence, saying it was well deserved justice, others sympathized with him and his family.