Tonto Dikeh Denies Suffering Complications After Underging Third Liposuction Surgery
Nollywood actress, Tonke Dikeh has denied reports that she suffered complications after undergoing her third liposuction surgery.
KanyiDaily recalls that Tonto Dikeh, who had undergone two liposuction surgery, shared photos and video of herself doing another cosmetic surgery in an unknown hospital.
A few days after Dikeh's announcement, a Twitter user claimed that sources had revealed the actress needed prayers because she was in critical condition n a hospital in Dubai.
The post reads, "I hear tonto dike is in a critical condition in a hospital in dubai? She went for a 3rd liposuction and bbl which is bum bum enlargement! I hear d operation didn't go well and she's nw in a critical condition in d hospital! I pray 4 her quick recovery 🙏 😢."
Reacting on her Instagram page, Tonto Dikeh denied the speculations and expressed her concerns about the way people publicly celebrate and pray when they hear negative news.
She mentioned that during her campaign for deputy governor of her state, she did not receive as much care and prayers as she does now after undergoing surgery.
Despite some negative rumours about her health, the actress confirmed that her surgery in Enugu State went well, and her body looks great while her health is top-notch.
Tonto Dikeh said she is safe in her house going about her daily activities, adding that people should pray for her to recover half the money she spent on politics.
In her words, "The way we celebrate and pray publicly with clout when we hear bad news is alarming!!! When I came out for deputy governor of my state I didn't see strangers like this one,show care by praying for me but as soon as you hear one negative unverified nonsens@ you wanna pray publicly and attract all those negative responses.
"Anyways my surgery with @realign_aesthetic_clinic based in Enugu state when amazing.. My body banging and my health on top-notch..
"If you have to pray pls pray I recover half the money I spent on politics. No prayer is a waste but pls don't bother Jesus on my behalf I am safe in my own home doing chores and running errands."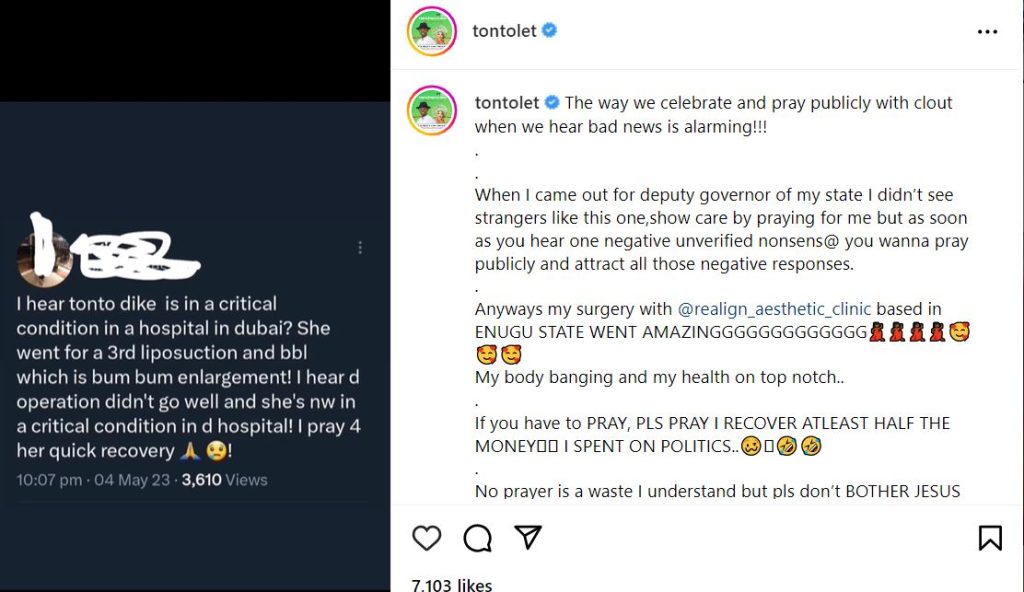 KanyiDaily recalls Tonto Dikeh recently threatened to deal with a celebrity stylist, Mimi Linda Yina, better known as Medlin Boss, for allegedly sleeping with her best friend's husband.