The Mayor of San Pedro Huamelula, southern Mexico, Victor Hugo Sosa has married a female crocodile in a traditional rite aimed at bringing good fortune to his people.
According to the AFP news agency, the reptile, named Alicia Adriana, represents the "princess girl" in local lore.
The marriage ritual is said to have been in practice for 230 years to commemorate the peace between the Chontal and Huave Indigenous groups.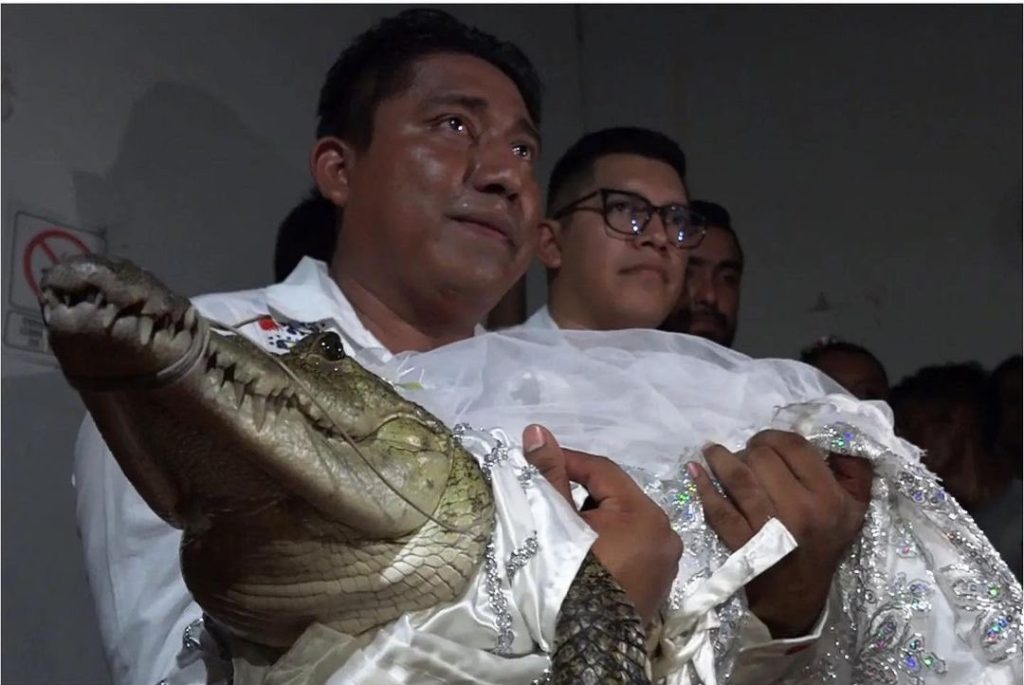 The mayor, embodying the Chontal king, weds the reptile, symbolising the union of the two cultures.
The wedding ceremony allows the communities to connect with the earth and seek blessings for rain, crop germination, and harmony.
While speaking during the ritual, Victor Hugo Sosa said, "I accept responsibility because we love each other. That is what is important. You can't have a marriage without love… I yield to marriage with the princess girl."
The chronicler of San Pedro Huamelula, Jaime Zarate explained that: "The wedding allows the sides to link with what is the emblem of Mother Earth, asking the all-powerful for rain, the germination of the seed, all those things that are peace and harmony for the Chontal man."
Before the ceremony, the reptile is taken to people's houses for dancing. The crocodile wears elaborate attire and has its snout bound shut for safety. The wedding took place at the town hall, where a local fisherman expressed hopes for good fishing and prosperity.
The mayor danced with the reptile bride, and the event celebrated the union of cultures, bringing happiness to the people. The ceremony concluded with the mayor planting a kiss on the reptile's snout.
In other news, Kanyi Daily reported that Twitter Chief Executive Officer, Elon Musk, has set temporary limits on the social media platform to address extreme levels of data scraping and system manipulation.
Musk announced this on his official Twitter handle on Saturday.