Spokesperson of the Delta State Police Command, DSP Bright Edafe has revealed why crossdressers like Bobrisky, James Brown, and Enioluwa can't be arrested.
KanyiDaily recalls that police recently arrested over 100 suspected gays and crossdressers during a same-sex wedding at Teebulus Hotel in Delta state.
Reacting to the development, Twitter influencer Daniel Regha pointed out that he viewed the arrest as hypocritical because crossdressers like Bobrisky, James Brown, and Enioluwa are still freely moving about.
Daniel argued that unless action is taken against these crossdressers who serve as role models, the younger generation will continue to follow their example.
"Bobrisky, James Brown, Eni & others who champion cross-dressing are still walking free; Until these people are prosecuted, many will continue to emulate.
Arresting 100 cross-dressers in Delta is one thing, but why ignore their mentors? The police should make an example of 'em," Regha wrote.
The Delta State Police PRO responded to Daniel Regha's tweet by clarifying that cross-dressing itself is not a crime. He further advised Regha to ensure his facts are accurate in the future.
DSP Edafe wrote; "Daniel, get your facts right, they were not arrested for cross-dressing, they were arrested for conducting and attending a gay wedding ceremony.
"Bring a part of the law that stipulates punishment for cross-dressing or categorize it as an offense."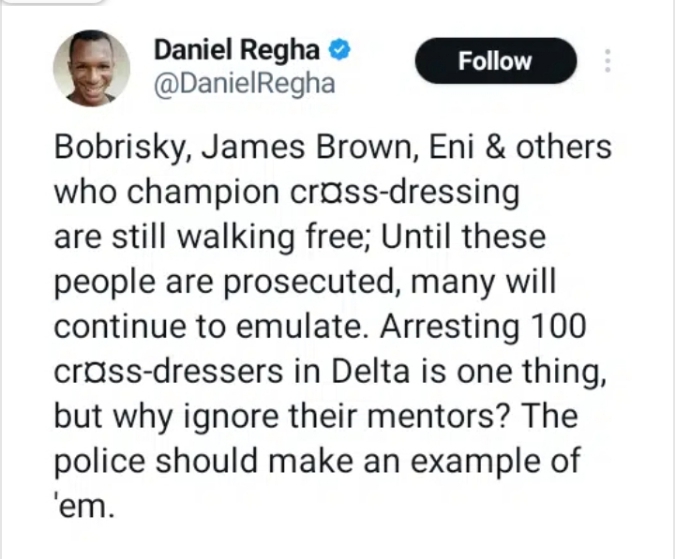 KanyiDaily recalls that Bobrisky recently flaunted a mystery man after criticizing the suspected gays and crossdressers arrested by police during a same-sex wedding in Delta state.