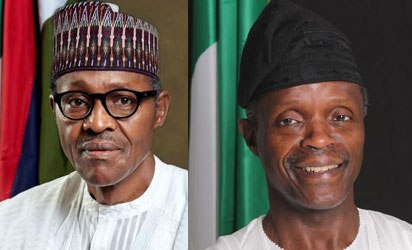 The presidency has alleged that some Nigerians want to drive a wedge between President Muhammadu Buhari and his vice, Yemi Osinbajo.
The presidency was reacting to claims that the office of the vice president has been sidelined.
Buhari had on Monday set up an Economic Advisory Council (EAC) to replace the current Economic Management Team (EMT) headed by Osinbajo.
While the EMT was headed by Osinbajo, the newly constituted EAC will report directly to President Buhari.
The president also instructed Osinbajo to, henceforth, seek presidential approvals before inaugurating agencies under his supervision.
On Tuesday, President Buhari further dissolved the Special Presidential Investigation Panel for the Recovery of Public Property (SPIP) which was established in August 2017 by Osinbajo.
Speaking as a guest on Channels TV's Politics Today, on Thursday, Special Adviser to the President on Media and Publicity, Femi Adesina, said all that the president had done particularly this week was just to "tweak governance and get the best for Nigerians".
Adesina maintained that the presidency is united as always, adding that the insinuation that there is a rift between Osinbajo and Buhari is being spread by detractors of the federal government.
"The Vice President is the number two man in the country. The new economic advisory body can also relate with the Vice President as necessary.

"It's just some Nigerians who want to drive a wedge between the President and the VP, that read meanings into everything and insinuate but there's no need for that," he said.