British singer, Adele has caused a major stare on social media after she shared a new photo of herself to mark her 32nd birthday.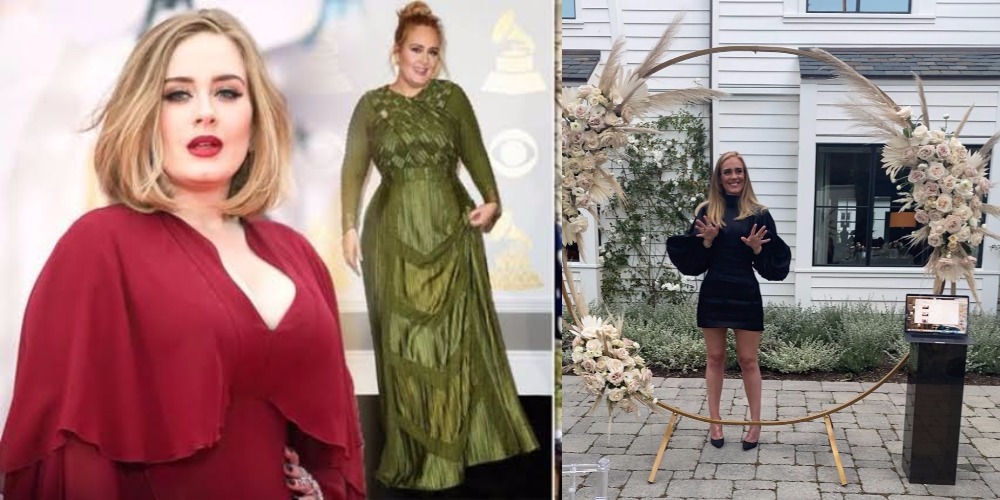 On her Instagram page, Adele showed off her incredible seven stone weight loss in a tight black mini as she stood beaming in her backyard behind a giant floral wreath.
Sharing the photo, the singer expressed her gratitude to fans for their messages sent on Tuesday in honor of her 32nd birthday. She wrote:
"Thank you for the birthday love. I hope you're all staying safe and sane during this crazy time. I'd like to thank all of our first responders and essential workers who are keeping us safe while risking their lives! You are truly our angels ♥️ 2020 okay bye thanks x"
The photo, which is her first since Christmas, began trending worldwide after the singer's followers began remarking on her weight loss.
Adele apparently went from take me to Church on Saturday to take me for a drink 🥃 out this night pic.twitter.com/DkO7Yd6qX3

— Leonel Ritchie™ (@LeonelRitchie) May 6, 2020
omg she looks insane
(but always have)
but let's give our bitch adele a round of applause not just because she looks like this but because she's a fucking icon #Adele pic.twitter.com/2r4RBcWvj9

— samm (@notearstroye) May 6, 2020
Adele went from singing " I'll find someone like you" to "find yourself someone like me, bitch" pic.twitter.com/bOOYQDfQRJ

— 𝓝𝓸𝓻𝓪 (@norxoa) May 6, 2020
When you see #Adele in the pic and you start searching for her nutritionist pic.twitter.com/KPdX8kLvLm

— Joe Cugs (@Er_PastaYOLO) May 6, 2020
I jau cannot get over Adele's insane transformation. Wow 👏🏽 pic.twitter.com/mbiFsQOKkP

— Ally (@Mrs_Mathenjwa) May 6, 2020
If you're only just realising that #Adele looks stunning, then you've clearly had your eyes shut the past decade…

She didn't need any glow up or any other bs to be gorge… she already was 🤩 pic.twitter.com/1PxVQc8tIZ

— Jordan Taylor (@tweetedbyjord) May 6, 2020
Ur daily reminder that Adele has always been a motherfucking queen regardless of her weight. No one wants to see badly written articles about her "glow up". It's 2020. Stop commenting on women's bodies. pic.twitter.com/neJyCU41B6

— a🔮 (@bbmbabyyyy) May 6, 2020
The old and new Adele look Beatiful and gorgeous….

— Engineer Tolu Tezzy_ 💧 (@tolutezzy_) May 6, 2020
Break up or divorce has it advantages tho

I mean look at Adele

Before divorce. After divorce pic.twitter.com/KBX27guQuE

— O.V.A.tion™ (@Dre_Ova) May 6, 2020
Adele was literally always beautiful, like genuinely stunning? Pls guys learn how to not be weirdos

— Bolu Babalola (@BeeBabs) May 6, 2020
People need to remember that Adele went through a messy divorce. We don't know if she was stressed or depressed which could have lead to her weight loss.

— 🇳🇬 (@Oloni) May 6, 2020
I want an Adele style glow up so BAD

— emily (@emilycmaves) May 6, 2020
Bloody hell, Adele looks great. But then, I think she has always been a gorgeous girl. I also think new music would help in this difficult time. Thanks, bye #Adele

— Kevin (@yorkiepud76) May 6, 2020
Adele has really shown she is a great nd strong woman.. indeed your transformation of your body was extremely fabulous.. #Adele 😍 pic.twitter.com/Lzr40BGs4R

— gerald nwapa🇳🇬🇬🇧 (@GeraldNwapa) May 6, 2020
To my fellow fats who are looking at everyone telling Adele how beautiful she is now she's skinny – you're valid, beautiful and celebrated at the weight you are NOW. You don't need an "Adele" moment to feel validated. You can achieve and be whatever you want to be RIGHT NOW.

— lottie l'amour 🐻 (@Lottie_Lamour) May 6, 2020
Adele "hello" Adele "fuck off" pic.twitter.com/UF67c4RE5a

— Razan Kadi🇱🇧 (@yourthawracrush) May 6, 2020
adele really got a divorce and did this pic.twitter.com/h1lS0HACc5

— ً (@ballslapperr) May 6, 2020
The toxic fat shaming and misogyny in the #adele tag is disgusting. Adele was sexy, and talented, and stylish years ago so I don't know why so many of you are acting like she's suddenly become all of those things only now simply because her weight has changed. pic.twitter.com/SPIoEmqoYd

— j u s t i n e 🐱🦋 (@benbetwnworlds) May 6, 2020
Adele is a MOOD: Me during quarantine vs me as soon as lockdown is lifted pic.twitter.com/F7liMc16Uy

— In The Style (@inthestyleUK) May 6, 2020