Former Benue State House of Assembly Contender, Hon. Daniel Ukpera has reportedly donated ropes to his community members to tie their goats.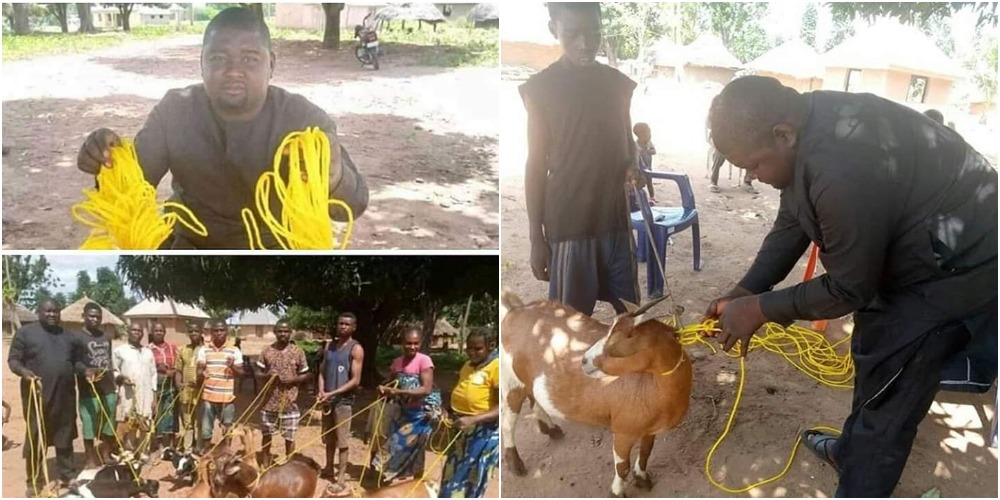 Ukpera contested for the Guma State Constituency seat in the 2019 Benue State House of Assembly Election under the platform of Labour Party (LP) but lost it to the People's Democratic Party contestant (PDP).
According to reports, the politician donated the ropes as his contribution to the implementation of the Benue State Anti Open Grazing Law.
Before leaving after the donation, Ukpera assisted some of the people to tie their goats as could be seen in viral photos below.
Hon. Daniel Ukpera of the Benue State HOA donates brand new colourful ropes to his community to help tie their goats. @ogundamisi @YeleSowore @RealSeunKuti @channelstv @SaharaReporters @PremiumTimesng @thecableng @ChidiOdinkalu @martobono @henryshield @Omojuwa @lindaikeji pic.twitter.com/Xoc3C6Vuz5

— Agba Jalingo (@agbajalingo_) June 13, 2020
So I heard that a certain "honourable" in Benue State (Hon Daniel Ukpera) donated ropes to his community for them to use in tying their goats.

What sort of Constituency Project is that!
What's actually wrong with us?

Has foolery and fuckery become our culture in Nigeria? pic.twitter.com/x1JYpewOVG

— Mazi @FestusGreen 🇳🇬 (@FestusGreen) June 13, 2020
Benue State politician, Daniel Ukpera, donates ropes to his community members to effectively tie their goats pic.twitter.com/29krsTdsAc

— Instablog9ja (@instablog9ja) June 13, 2020
Benue state government are donating ropes as "Youth Empowerment Projects" in 2020 🤣🤣🤣

My question here is, what are the jobs you can use a rope for?

— Sarki. (@Waspapping_) June 13, 2020
A Benue politician, Daniel Ukpera has just donated ropes to the people of his community so they can use it to tie their goats.

The only sad part to this is that the people are okay with this.

They should use that rope to tie him to a tree and beat him mercilessly like a goat. pic.twitter.com/tp2GVaSKUI

— #OurFavOnlineDoc 🛂 (@DrOlufunmilayo) June 13, 2020
I heard a politican in Benue state donated rope to some traders in the local goat market, as in ụdọ eji akpu ewu.

Chineke nna

— Mazi Waltz (@EduWaltzChuka) June 13, 2020
Benue state😂🤦🏿‍♂️. From sharing wheelbarrow to importing pigs to sharing ropes😂😂 https://t.co/BR77HjKHtQ

— Sultan of Jos👑 (@bob_LONGG) June 13, 2020
One political office holder in Benue state donated "ropes" to his people as his own goodwill. Ropes so they can tie their goats 🐐

Ahh,every curse upon Nigeria,Oluwa break it by fire. This suffer is too much 🤦‍♂️

— Bright (@Bright_Uchemadu) June 13, 2020
Benue people will never cease to amaze me, the other time it was wheelbarrow empowerment now its Rope
🤣🤣🤣🤣 pic.twitter.com/ODiIX9gD5R

— Naustine (@Naustine1) June 13, 2020
BENUE STATE house of Assembly member donates robs to constituents to tie their goats.

He donates this to celebrate democracy day..😀 pic.twitter.com/rl6I5UR9QI

— OSCAR (@Iam_Oscar1) June 12, 2020
ALSO READ: APC Lawmaker Donates Wheelbarrow To Truck Pushers As Constituency Project [Photos]