Nigerians Raise Over N4m For #EndSARS Protester In Need Of N1.5m Prosthetic Leg
Nigerians have raised over N4million for a physically challenged lady identified as Jane who was spotted participating in the ongoing protest against the extrajudicial activities of the now-defunct Special Anti-Robbery Squad (SARS).
Having just one limb did not stop Jane from joining the ongoing #EndSARS protest across the country against the SARS tactical unit of the Nigerian Police Force over its brutality, illegal arrest, extortion, extra-judicial killings, among others.
A popular social media influencer and medical practitioner, Aproko Doctor, shared the now-viral photo of Jane and revealed she had been unemployed since 2013 due to her present reality.
He then set up a GoFundMe to raise the sum of N500,000 to get her a prosthetic leg. Surprisingly, the account raised more than the targeted sum under within one hour.
Aproko Doctor updated his post saying after deliberations with one Bayo Ojelabi who seems to be an expert on prosthetic leg, the targeted sum was increased to N1,500,000 in order to get Jane the highest quality.
We updated the amount needed after deliberations with @Bayo_Ojelabi seeing as she will deserve the highest quality possible.

He and his team will not collect a dime for assembling the prostheses.

Everything will be done. Free of Charge

God bless you!

Let's keep it coming!

— Aproko Doctor (@aproko_doctor) October 18, 2020
In less than two hours, the account surpassed the targetted sum. The account has now received a donation of N4,167,570 and still counting.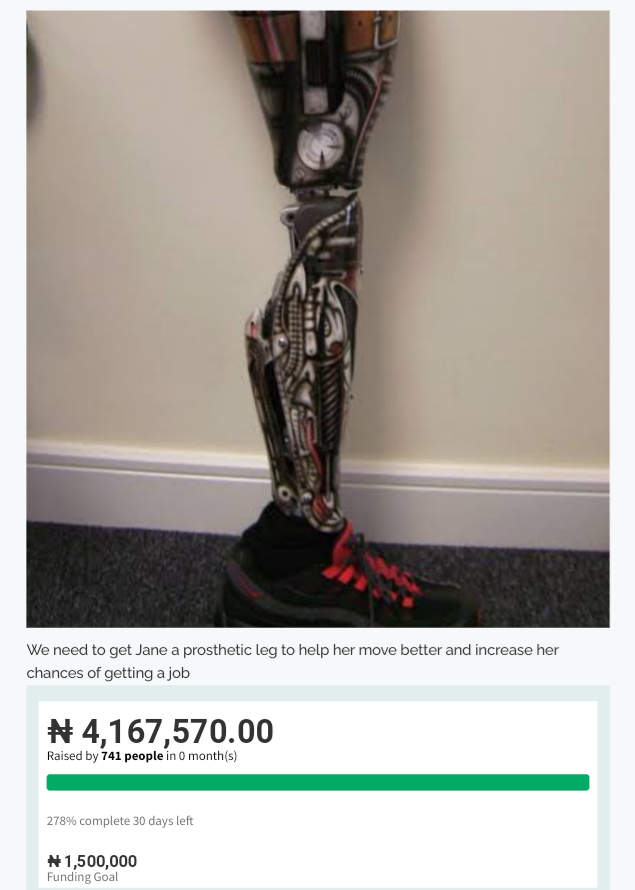 Meanwhile, a popular hacktivist group, Anonymous, has shutdown the website of First Bank of Nigeria for allegedly freezing the donated funds that were meant for #EndSARS protesters.