Award-winning broadcast journalist and creative, Mrs Francess Olisa-Ogbonnaya has described Skill Development as the Future and passport to National Development.

The Creative Journalist stated this in her Ibom Arochukwu home while interacting with her colleagues the Newsmen in lieu of her upcoming Media Training and Workshop dubbed "Rediscover Yourself" which is in its 3rd Edition.
In her words
"A lot is happening in our society already, drug abuse is on the high, moral and Social decadence etc, so the only way out of the pending doom is to keep the youths and most importantly keep them off the street"

"Even those who went to school can't find suitable jobs because of lack of some basic requisite but I know that even though , Schooling might not guarantee you Employment but Skills must surely do" She added.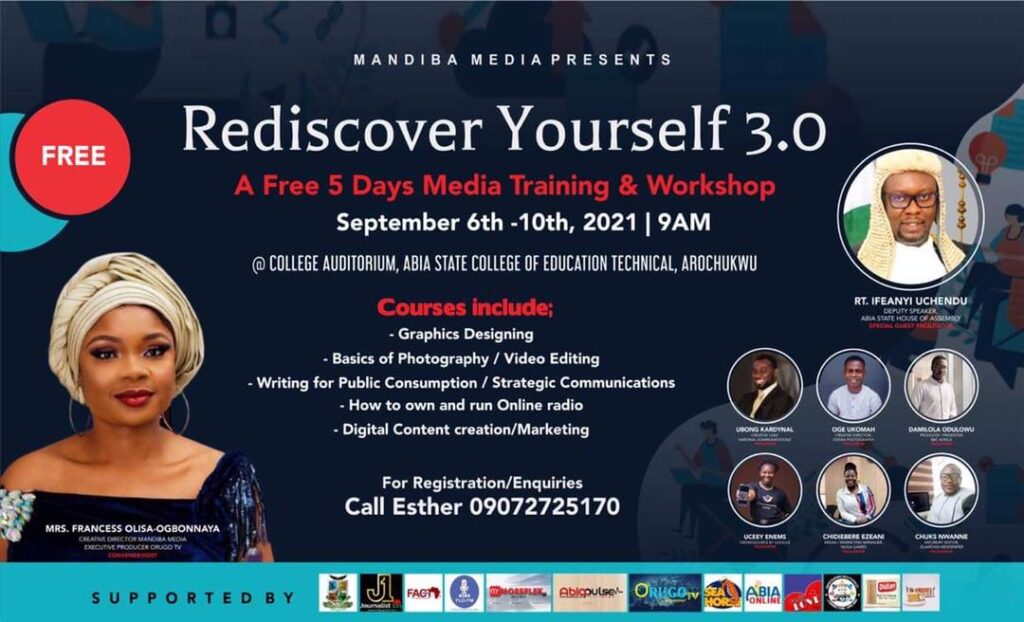 Speaking on preparations towards the event billed to hold on 6th September through 10th 2021, Mrs. Tabitha disclosed that Six Special skills will be taught at this year's edition, Graphics Design, Photography, Content Creation, Digital Marketing, How to own and run an Online Radio as well as Strategic Writing/Communications which she described as very important and necessary for Media Aides and Would be Media Aides.
She added that she has assembled the best hands in each field from London, Lagos, Abuja , Uyo and Umuahia adding that this year's edition will feature a special Lecture on Youths Empowerment and Development by the State's Deputy Speaker, Hon Ifeanyi Uchendu who many has described as one who understands the business of Youths Empowerment.
Speaking Further, She thanked everyone who has so far contributed to the planning of the Program most especially the Supporters and Partners like Moreplex Tv, Abia State Ministry of Information, Seahorse Lubricants, Didian Soda Crackers, Family Love FM Umuahia, Flo FM Umuahia, Facts News, Abia Pulse, Arochukwu Mouthpiece, Abia Online, Journalist 101 amongst others.
She also specially thanked the management of Abia State College of Education Technical Arochukwu, ASCETA led by Dr Philip Nto for making available the School facilities for her use as the 5 days event will be held at the College Auditorium of the School.
Speaking on What makes this Skill Development and Empowerment Program different;
"This is a Media Skills Training Program , an Industry where I am a senior Practitioner and an executive, so I picked those very relevant Skills and I just don't leave the participants after the training, I move them to E portal where the training continues till they get better and subsequently I try to help them get placements and all"

"At this year's edition in Arochukwu, exceptional participants will get start up kits from our Sponsors and Partners" She added